Fascist former Maricopa County, Arizona Sheriff Joe Arpaio has been found guilty of criminal contempt of court for refusing to follow a court order ending racial profiling of Latino immigrants within his jurisdiction. He faces jail time, but will almost certainly not get any.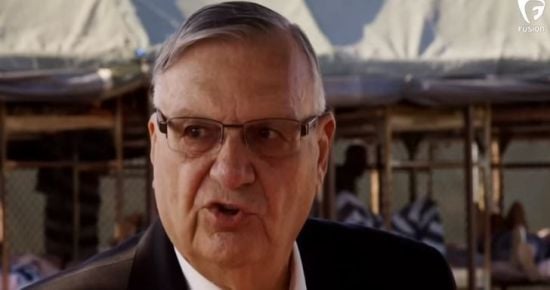 In December 2011, a federal district judge hearing a racial profiling lawsuit ruled that the immigration detentions were illegal and ordered the sheriff to halt them — an order that was upheld by an appeals court and reinforced by another district court order in 2013. But Mr. Arpaio vowed, publicly and repeatedly, that the roundups would continue, and they did.

After federal prosecutors charged him with criminal contempt of court, he maintained that he had not willfully violated the court order, but that his underlings had done so. United States District Judge Susan R. Bolton dismissed that claim in a ruling on Monday in Phoenix..

"Not only did Defendant abdicate responsibility, he announced to the world and to his subordinates that he was going to continue business as usual no matter who said otherwise," she wrote in delivering the guilty verdict.

Mr. Arpaio, 85, could be jailed for up to six months on the conviction. Judge Bolton scheduled sentencing for Oct. 5.
Given his age, he is very unlikely to get a jail sentence. But you know what? He should get exactly the same kind of treatment he illegally forced on so many others for decades, and no one could possibly believe that he wouldn't gleefully throw an 85 year old man in his outdoor prison camp where the temperatures get up as high as 130 degrees in the Arizona sun. Well, if the 85 year old was Latino.
Joe Arpaio is a rank bigot and a proto-fascist who abused his authority continually and thumbed his nose at both the DOJ and federal judges. There needs to be consequences for that. His successor has done away with that outdoor prison camp that Arpaio created, but I'll settle for seeing him behind bars for a few months. In pink underwear, of course, because that was one of the things he most enjoyed, trying to emasculate inmates by making them wear pink (I can't imagine why this would or should emasculate anyone, but he certainly thought it did, so treat him accordingly).
I can't wait to hear how Larry Klayman, the dumbest lawyer in America not named Mat Staver and one of Arpaio's attorneys, flips out over this. I predict a lot of cries about communism and gay Muslims and such.