Two-time suspended former Chief Justice of the Alabama Supreme Court Roy Moore, a genuine Christian Reconstructionist theocrat, is likely to win the Senate seat vacated by Jeff Sessions when he was named Attorney General by Trump.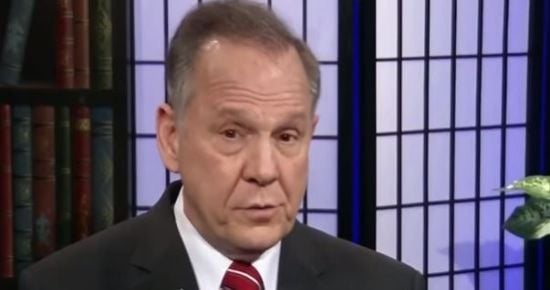 The survey of 500 Republican voters by Louisiana-based JMC Analytics and Polling – which reached a large number of groups traditionally supportive of Moore – found judge leading the crowded GOP field with 30 percent of the vote. U.S. Sen. Luther Strange got 22 percent of the vote, while U.S. Rep. Mo Brooks, R-Huntsville, had 19 percent. The poll has a margin of error of plus or minus 4.4 percent.

"Roy Moore leads the field based on his strength in northern Alabama, while Luther Strange runs relatively strongly across most of the state," JMC stated in a summary section. "Mo Brooks has regional strength in the Huntsville media market while garnering at least 10 percent in the other media markets."

Sen. Trip Pittman, R-Montrose, got 6 percent of the vote, while Dr. Randy Brinson, the former head of the Christian Coalition of Alabama, got 2 percent. Seventeen percent of those surveyed said they were undecided.
You think Sessions is bad? He's practically the second coming of Martin Luther King next to Moore. This is a man who literally think that gay people should be put to death by the state, as the Bible commands in Leviticus. And he said do in a custody ruling where the mother had become lesbian after the divorce, but in which her sexual orientation was not even at issue in the dispute. The father didn't even make the claim that her sexual orientation should have anything to do with custody, but Moore felt the need to write a concurring opinion quoting the Bible and concluding:
"The State carries the power of the sword, that is, the power to prohibit conduct with physical penalties, such as confinement and even execution. It must use that power to prevent the subversion of children toward this lifestyle, to not encourage a criminal lifestyle."
And the people of Alabama are going to send this Christian fascist to the Senate.