What would we do without Alex Jones? This demented little wannabe tough guy is just so entertaining. He says the whole thing in Charlottesville was a false flag. His proof? All the KKK guys at the rally looked like they were Jewish actors from Seinfeld. Not that there's anything wrong with that.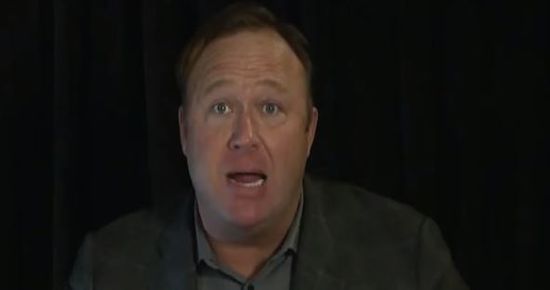 ALEX JONES (HOST): Here's a little bit of audio of me like 18 years ago protesting the KKK. There's no big crowd of Antifa there supporting me, and them threatening to kill me, everything else. And it later came out they were federal agents like I said. It wasn't even real. I mean, quite frankly, I've been to these events, a lot of the KKK guys with their hats off look like they're from the cast of Seinfeld. Literally they're just Jewish actors. Nothing against Jews in general, but they are leftists Jews that want to create this clash and they go dress up as Nazis. I have footage in Austin — we're going to find it somewhere here at the office — where it literally looks like cast of Seinfeld or like Howard Stern in a Nazi outfit. They all look like Howard Stern. They almost got like little curly hair down, and they're just up there heiling Hitler. You can tell they are totally uncomfortable, they are totally scared, and it's all just meant to create the clash.
Yadda, yadda, yadda. Someone needs to put this close talker in a puffy shirt. He is definitely not spongeworthy. And no soup for him!