White House aides are leaking to the press again, this time to say that Trump practically had to be held at gunpoint to make a follow-up statement that specifically mentioned the KKK and white supremacists in the wake of the Charlottesville terror.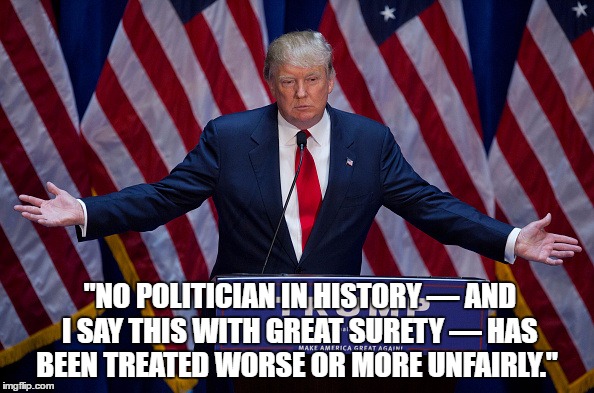 Loath to appear to be admitting a mistake, Trump was reluctant to adjust his remarks.

The president had indicated to advisers before his initial statement Saturday that he wanted to stress a need for law and order, which he did. He later expressed anger to those close to him about what he perceived as the media's unfair assessment of his remarks, believing he had effectively denounced all forms of bigotry, according to outside advisers and White House officials.

Several of Trump's senior advisers, including new chief of staff John Kelly, had urged him to make a more specific condemnation, warning that the negative story would not go away and that the rising tide of criticism from fellow Republicans on Capitol Hill could endanger his legislative agenda, according to two White House officials…

Reading from a teleprompter, he made a point of beginning with an unrelated plug for the strength of the economy under his leadership. Then, taking pains to insist "as I said on Saturday," Trump denounced the hate groups and called for unity.

"We must love each other, show affection for each other and unite together in condemnation of hatred, bigotry and violence," he said.

Trump for the first time mentioned Heather Heyer by name as he paid tribute to the woman killed by the car.

At the trade event later in the day, he was asked why it took two days for him to offer an explicit denunciation of the hate groups.

"They have been condemned," Trump responded before offering a fresh criticism of some media as "fake news."

He followed with a tweet declaring "the #fakenews will never be satisfied."
One of the things you must remember about Donald Trump is that he is always the victim. Everything is a conspiracy against him. It's not that he issued a mealy-mouthed statement to begin with that didn't satisfy anyone, including many prominent Republican politicians and conservative writers, it's that no one will ever be satisfied so why should he even bother trying? Remember, in his mind no one has ever been treated more unfairly in the entire history of the country!
That's why when he read that statement off the teleprompter, he sounded like a 5 year old being forced by his parents to apologize to his brother for hitting him with Hot Wheels track. He rolls his eyes and mutters "I'm sorry" with exasperation and no sincerity whatsoever. And this was not lost on the very people he pretended to condemn. Richard Spencer made quite clear that he knows Trump only said those things because he had to, not because he actually means it.
"His statement today was more kumbaya nonsense," he said. "Only a dumb person would take those lines seriously…I don't think he condemned it, no. Did he say 'white nationalist?' 'Racist' means an irrational hatred of people. I don't think he meant any of us." And then he put the blame — credit, in his view — right where it belongs, saying, "Obviously the alt-right has come very far in the past two years in terms of public exposure. Is Donald Trump one of the major causes of that? Of course. He never talked about this conservative garbage we've been hearing for years…he was a nationalist."
The white supremacists heard Trump loud and clear. So did I.