James Mitchell and Bruce Jessen, the two psychologists who designed the torture protocols used by the Bush administration against detainees at Gitmo and elsewhere, settled a big lawsuit by the victims of that torture just before the trial was set to begin. The ACLU, which represented the plaintiffs, report on the settlement.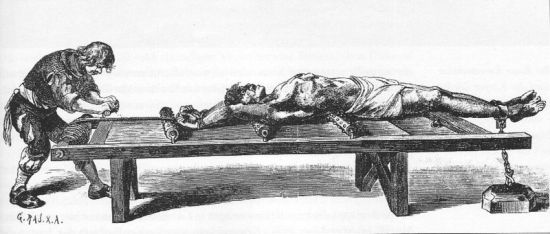 "This is a historic victory for our clients and the rule of law," said ACLU attorney Dror Ladin. "This outcome shows that there are consequences for torture and that survivors can and will hold those responsible for torture accountable. It is a clear warning for anyone who thinks they can torture with impunity."

The full terms of the settlement agreement are confidential.

"We brought this case seeking accountability and to help ensure that no one else has to endure torture and abuse, and we feel that we have achieved our goals," the plaintiffs said in a joint statement praising the settlement. "We were able to tell the world about horrific torture, the CIA had to release secret records, and the psychologists and high-level CIA officials were forced to answer our lawyers' questions. It has been a long, difficult road, but we are very pleased with the results."

Until now, every lawsuit trying to hold people accountable for the CIA torture program has been dismissed at initial stages because the government successfully argued that letting the cases proceed would reveal state secrets. But unlike previous cases, this time the Justice Department did not try to derail the lawsuit. The defendants attempted to dismiss the case multiple times, but the court consistently ruled that the plaintiffs had valid claims.
Mitchell and Jessen made $81 million in taxpayer money for their role in this. I hope those victims get every damn dime of it. This was, as the ACLU notes, the very first case in which the DOJ, under both Bush and Obama, did not invoke the strongest possible version of the State Secrets Privilege to get the suit dismissed. I can only assume that Obama decided not to do so because it was the end of his time in office and he felt politically safe to do it. But his use of the SSP, like that of Bush, served only to insulate the government and the private organizations and individuals that worked with it, to violate the UN Convention Against Torture and destroy the rule of law and all hope of accountability.
And frankly, this still isn't enough. Mitchell and Jessen should be in prison. So should Bush, Cheney, Rumsfeld, Tenet and every single other person who played a role in torture.