Jon Gabriel, a conservative editorialist for the Arizona Republic, puts the lie to Trump's laughable claim that Joe Arpaio was a good American doing his job. He was a reckless, authoritarian sheriff who was completely out of control and cost taxpayers hundreds of millions of dollars.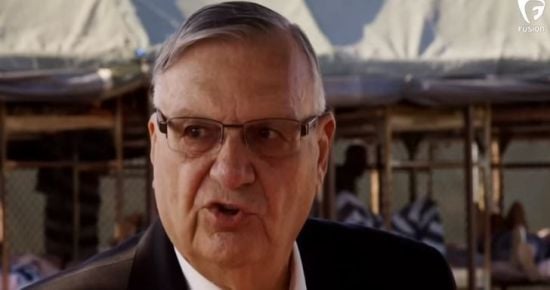 America's self-proclaimed "toughest sheriff" was convicted of criminal contempt of court last month after refusing to obey court orders. This most recent legal battle involved numerous federal attempts to get Arpaio to stop racially profiling residents of Maricopa County.

Not only did Arpaio refuse, he bragged about it: "Nobody is higher than me. I am the elected sheriff by the people. I don't serve any governor or the president."…

During one three-year period, his Maricopa County Sheriff's Office didn't properly investigate more than 400 alleged sex crimes, many of them involving child molestation.

In all, the department improperly cleared as many as 75% of cases without arrest or investigation, a fact outlined in a scathing report by the conservative Goldwater Institute.

When local journalists delved into Arpaio's dealings, he had them arrested, a move that ultimately cost taxpayers $3.75 million. We paid $3.5 million more after the sheriff wrongfully arrested a county supervisor who had been critical of him.

About the same time, Arpaio sought charges against another supervisor, a county board member, the school superintendent, four Superior Court Judges and several county employees. All of these were cleared by the courts and also resulted in hefty taxpayer-funded settlements for his targets.

As a U.S. District Court judge presided over a civil contempt hearing, Arpaio's attorney hired a private detective to investigate the judge's wife…

The sheriff's department misspent $100 million on the sheriff's pet projects, and wasted up to $200 million in taxpayer money on lawsuits. Yet he still found money to send a deputy to Hawaii to look for President Obama's birth certificate.
What do you call a public official who uses his office to conduct investigations into those who criticize them? An authoritarian who is clearly abusing his power. This was done in conjunction with former Maricopa County District Attorney Andrew Thomas, who rubber-stamped Arpaio's witch hunts into his political enemies. He was not only removed from office for it, he was disbarred by the Arizona Supreme Court. His assistant, Lisa Aubuchon, was too.
Trump loves to talk about "law and order," yet he happily undermines that very thing when he protects those who abuse their power from the consequences of their actions. It becomes doubly hypocritical when he does so without bothering to follow any of the legal procedures developed by the Department of Justice to deal with pardons. As with powerful authoritarians, the rule of law is only for the little guy, the rabble.
Even the conservative, Rupert Murdoch-owned Wall Street Journal is taking Trump to task for undermining the rule of law with the pardon, saying that it "sends a message that law enforcers can ignore court orders and get away with it. All you need is a political ally in the White House or Governor's mansion."