It appears that Trump is going to make good on his promise to donate $1 million to hurricane relief, though it isn't clear whether it's his own money or from his foundation (which would be other people's money). The White House announced the recipients of that money and they could not have done much worse.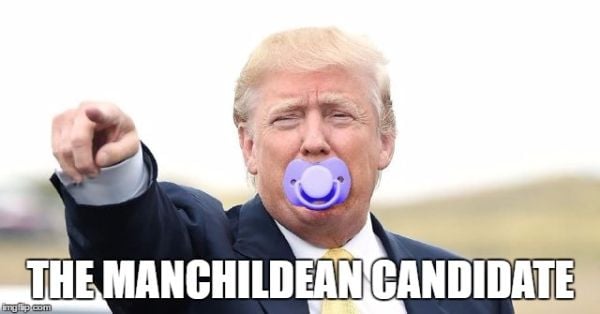 The two biggest individual gifts were given to large, mainstream charities: the American Red Cross and the Salvation Army would get $300,000 each, the White House said.

The next-largest gifts went to charities associated with Christian ministries.

The White House said Trump would give $100,000 to Samaritan's Purse, an evangelical Christian aid agency run by Franklin Graham, the son of famed evangelist Billy Graham. Franklin Graham has been a key political supporter of Trump's: Last month, while Trump was under fire for his comments about the violence in Charlottesville, Graham publicly defended Trump and said the blame lay instead with Satan, for "evil in men's hearts." Vice President Pence also met with Samaritan's Purse volunteers during his separate trip to hurricane-ravaged areas.

Trump also said he would also give $100,000 to Reach Out America, a Houston-based charity connected to the United Pentecostal Church International.

The remaining gifts were all for $25,000 each. The White House said they would go to:

—Operation Blessing International, a faith-based disaster-relief charity based in Virginia Beach

—Catholic Charities

— The Houston Humane Society

—The American Society for the Prevention of Cruelty to Animals

—Team Rubicon, a charity that sends teams of military veterans to help in disaster zones.

—Portlight Inclusive Disaster Strategies, a nonprofit group that focuses on helping those with disabilities.

—Direct Relief, a medical-aid group which has shipped doses of medicines and vaccines — all of which must be kept cold — to flood-ravaged areas in Texas.
So the big money goes to large but ineffective and money-wasting groups like the Red Cross or to Christian charities founded by con artists, and the smaller amounts go to a few organizations that can really put the money to good use and make a difference. The Red Cross continues to be the go-to group for donations after any kind of disaster, but the truth is that they're absolutely terrible at helping in such situations. There are things the Red Cross does well, like ongoing refugee relief, but helping after a natural disaster is absolutely not one of them.
The Salvation Army is better in some ways, but it's also a highly bigoted Christian charity that has denied help to LGBT people. They shouldn't get a dime from anyone as long as that is the case. And $100,000 to Franklin Graham's "charity"? Absolutely not. Even worse is Operation Blessing, Pat Robertson's "charity," which is, as I've written before, just another one of his scams.
There are a few good groups getting smaller grants. Team Rubicon is an excellent group that the Foundation Beyond Belief has worked with and funded before. They deploy rapid response disaster relief teams to affected areas to help with the cleanup and rebuilding, teams that are largely made up of former military people with the skills to help. Terrific group. Portlight Inclusive Disaster Strategies is also an excellent organization.
My friend Samantha Montano, who has a PhD in disaster management and designed the Foundation Beyond Belief's Disaster Recovery programs, said on Facebook that Trump "managed to pick all the notoriously bad groups, which of course shouldn't be surprising." Nope, not at all surprising.