A teacher here in Michigan is suspended pending an investigation for allegedly physically assaulting a 6th grade student by violently yanking him out of his chair for refusing to recite the Pledge of Allegiance, something that is the student's absolutely protected right to do.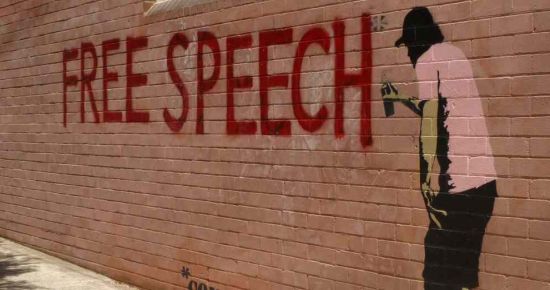 A teacher was put on leave and is under investigation after he allegedly got physical with a student who refused to stand for the Pledge of Allegiance.

The student, Stone Chaney, is a sixth-grader at East Middle School in Farmington Hills.

Stone had just started his first week at East Middle School, but his family isn't sure if he'll go back. Stone said he felt his rights were violated when he didn't stand for the Pledge of Allegiance.

"The teacher consultant comes up behind me and snatches me out of my chair violently," Stone said. "I was so confused. I didn't know what was going on."

Stone said the homeroom teacher tried to force him to stand during the Pledge of Allegiance…

Stone said the next day, another teacher yelled at him for sitting down during the Pledge.

"I don't feel safe going to that school anymore because I don't know what they're going to do next," Stone said.
This crap makes my blood boil. It's not like this is some close call or something that should be the least bit controversial. The Supreme Court decided this over 70 years ago, for crying out loud. And Farmington Hills is not some rural backwater, it's a wealthy suburb (and the student is black, which may well have played a role; studies show that when a black student mounts this kind of protest, whites see it as far more serious than when a white student does it).
And it's not like this is some obscure Supreme Court ruling. West Virginia v Barnette is one of the most famous rulings in the nation's history and includes one of the most famous passages ever written. "If there is any fixed star in our constitutional constellation," wrote the incredibly eloquent Justice Robert Jackson, "it is that no official, high or petty, can prescribe what shall be orthodox in politics, nationalism, religion, or other matters of opinion, or force citizens to confess by word or act their faith therein. If there are any circumstances which permit an exception, they do not now occur to us."
We need a mandatory in-service day for all public school teachers on this subject, during which they learn what authority the school has and what rights the students have on a wide range of subjects. Every teacher should receive written guidelines for every situation that can be anticipated. And after that, if anything like this happens again, the teacher should be fired and never be allowed to teach in any public school ever again.