Okay, this is a bizarre story. Fired White House adviser Steve Bannon last week went to China and had meetings with the 2nd most powerful man in the government there. The same Steve Bannon who has relentlessly criticized China and wants to start a trade war with them.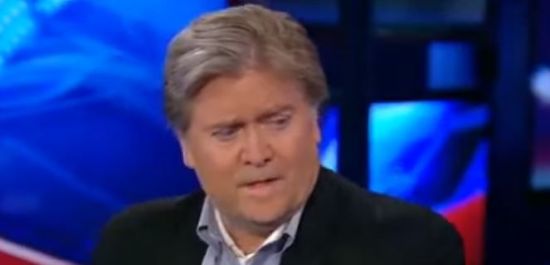 The clandestine meeting was with Wang Qishan, "the second most powerful Chinese Communist Party official," according to the Financial Times. Qishan is a member of the Politburo's Standing Committee and is the Secretary of the Central Commission for Discipline Inspection of the Communist Party of China.

"Mr Wang, who is seen as the second most powerful person in China after President Xi Jinping, arranged through an intermediary for a 90-minute meeting," the Financial Times reported. "After Mr Trump won the election, China frequently approached Jared Kushner, the president's son-in-law and top aide, to help navigate the US-China relationship. But Mr Kushner has taken much less of a role in recent months."

The news was so big that it is being viewed as an indicator of internal power in the People's Republic of China.

"The secret meeting between Mr Bannon and Mr Wang will also stoke speculation that the Chinese anti-graft tsar, who has purged hundreds of senior government officials and military officers for corruption in recent years, may continue to work closely with Mr Xi during his second term in office," the Financial Times noted. "Before his appointment as head of the party's Central Commission for Discipline Inspection, Mr Wang was Beijing's point man for Sino-US relations and has played a pivotal role in most of China's key financial reforms over the past 20 years."
We know that Trump is still talking to Bannon and that Bannon has promised to continue to pressure Trump to push his agenda of anti-China economic nationalism. But how would a meeting with Qishan help that in any way? Was he there at Trump's bidding? To do or say what? So many questions and very little to go on that might help answer them. I'll be very curious to see more investigative reporting on this and where it might lead because this is both fascinating and baffling.