During the campaign, Donald Trump led audiences in chants of "lock her up" about Hillary Clinton because she used a private email address rather than a government-issued one. But now it's come out that his little boy wonder, Jared Kushner, used not one but two different private email addresses to conduct White House business.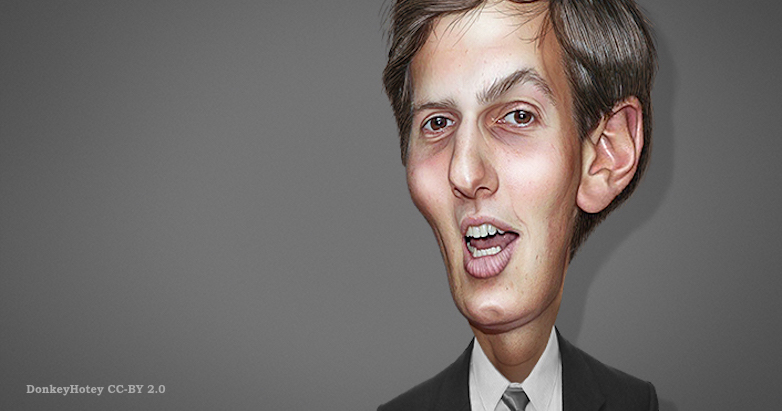 White House officials have begun examining emails associated with a third and previously unreported email account on Jared Kushner and Ivanka Trump's private domain, according to three people familiar with the matter.

Hundreds of emails have been sent since January from White House addresses to accounts on the Kushner family domain, these people said. Many of those emails went not to Kushner's or Ivanka Trump's personal addresses but to an account they both had access to and shared with their personal household staff for family scheduling.

The emails — which include nonpublic travel documents, internal schedules and some official White House materials —were in many cases sent from Ivanka Trump, her assistant Bridges Lamar and others who work with the couple in the White House. The emails to the third account were largely sent from White House accounts but occasionally came from other private accounts, one of these people said.

The existence of additional accounts on the family domain beyond the two personal accounts used by Kushner and Ivanka Trump and reported earlier raises new questions about the extent of personal email use by the couple during their time as White House aides. Their use of private email accounts for White House business also raises concerns about the security of potentially sensitive government documents, which have been forwarded to private accounts.
But of course, this is
totally different
than when Clinton used a private email address, which was also totally different than when several White House officials, including her predecessors as Secretary of State, used private email addresses when they were in office. Why are they different? Uh…because Sarah Sanders says so? Look, here's what is really going on here: Both Democrats and Republicans in the White House have private email addresses in the hope of hiding things from Freedom of Information Act requests.
Regardless of the party in the White House, officials are always going to seek to hide things from eventual public disclosure. They prefer to operate in secret and they've seen how careers and reputations can be destroyed when the public finds out some of the things they've done. People have even gone to prison at times because of information obtained either through FOIA requests or subpoenas. So they try to hide a lot of what they do. And then they pretend that only the other side does it, or it's only bad when the other side does it.
What we need are public disclosure laws that have real teeth to them, that severely penalize these attempts to skirt transparency and accountability. And they should apply no matter what party occupies the White House.