Mary Colbert, the partner-in-stupid to the firefigher who declared himself a prophet, knows one when she sees one. And fellow con artist Jim Bakker, she says, is a prophet and an "oracle for God." So don't you dare make fun of him because God might get mad or something.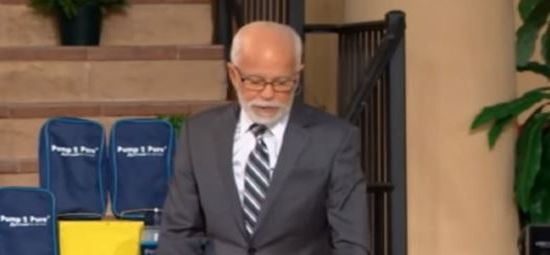 "You know, Jim, a lot of people made jokes and mocked you," Colbert said. "They have and you know I'm telling the truth. [They] thought that Jim had gone off the deep end and his warning to people, 'Prepare, prepare' and he'd been laughed [at] and mocked. But here we are, we are seeing catastrophe behind catastrophe. That's because he's a prophet."

"He is a prophet," she continued. "He's a mouthpiece, he's an oracle for God, so when he speaks and when he says something, you better listen because it's true."
Riiiiiiiiight. Like when he said he was a family values guy while he was banging his secretary. True, right? And when he committed fraud by selling time shares at his Jesus theme park? Totally true. God says so.