Let's add to the pile of flimsy explanations conservatives are giving for the Las Vegas shootings, from demon possession to hating Trump voters. Rick Santorum says it's all about violent movies and video games, offered with no evidence at all.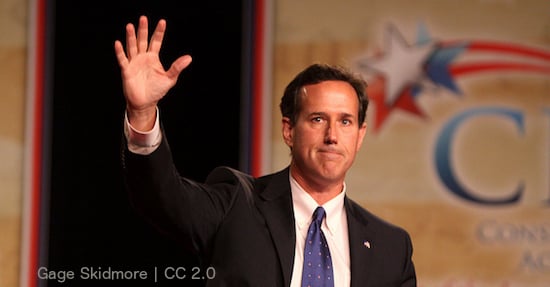 The failed GOP presidential candidate, who appeared Sunday as a panelist on CNN's "State of the Union," then suggested violent entertainment may have influenced the 64-year-old gunman.

"Violence in television and the video games — there is a mountain of evidence out there, psychological evidence, about what we're doing to our young people with these video games, violent video games, and you never hear the left trying to go after Hollywood or the gaming market," Santorum said. "It is never involved in this discussion. Where is the solution? Here we are. Where is the solution?"

He complained that Democrats had inaccurately blamed firearms for gun violence instead of movies.

"Always gun control," Santorum said. "It is never about the violence we have in our society, it is never about what Hollywood, you know, contribution to that."
Right. Because the movies and video games aren't violent anywhere else in the developed world, where virtually every country has far lower rates of violence, including mass shootings, than the United States. Why do you suppose violent video games and movies only cause shootings in this country and not in other countries? And since violent video games have only really happened in the last 25 years ago, how does he explain that violent crime has gone down steadily in that time period?
Facts and evidence do not matter to Santorum.