Talking Points Memo has a look at Michael Peroutka, about whom I've written many times over the years, and the fact that he is a huge financial supporter of Roy Moore. They share a neo-confederate ideology that is deeply racist and theocratic to the core.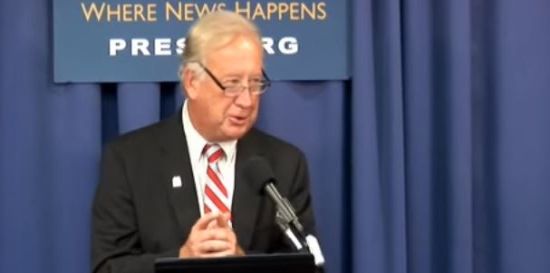 Peroutka was for a long time on the board of racist hate group League of the South, which still believes that the south should secede and create a "Christian republic." And while Peroutka resigned his position out of political necessity when he ran for office as a Republican in Maryland, he hasn't abandoned that view:
Peroutka has been explicit about his support of the Confederacy — and his views haven't exactly softened over the years.

In 2012, speaking at the League's annual convention, Peroutka laid out his view that the South needs to rise again while praising the group's even more hardline leader, Michael Hill.

"I don't disagree with Dr. Hill at all that this [national political] regime is beyond reform. I think that's an obvious fact and I agree with him. However, I do agree that when you secede or however the destruction and the rubble of this regime takes place and how it plays out, you're going to need to take a biblical worldview and apply it to civil law and government," he said. "I don't want the people from the League of the South to for one minute think that I am about reforming the current regime and studying the Constitution is about reforming the regime. I, like many of you and like Patrick Henry, have come to the conclusion that we smelled a rat from the beginning."
Moore's Foundation for Moral Law provided space for the League of South's annual Secession Day events a few years ago. They are also deeply tied to the Council of Conservative Citizens, a white supremacist group. My old friend Fred Clarkson is quoted in the article in response to Moore pretending that he didn't really know what Peroutka's views are, especially given that the two of them have toured the country together speaking to groups. Clarkson says the League of the South is "a violent secessionist group rooted in the theology of Christian Reconstructionism, states' rights and white supremacy. There's no question what they're up to."
No doubt indeed.