Christian fascist Roy Moore, likely the next senator from Alabama, has a serious problem with disclosing financial dealings. A week or two ago he was caught lying on Senate disclosure forms about speaking income. Now the Washington Post reports that he failed to disclose over a million dollars in payments from his foundation.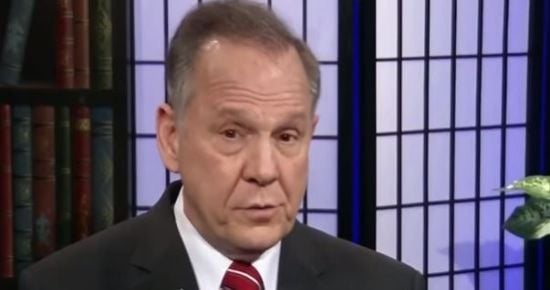 Former Alabama judge Roy Moore, a Republican candidate for U.S. Senate, once said publicly that he did not take a "regular salary" from the small charity he founded to promote Christian values because he did not want to be a financial burden.

But privately, Moore had arranged to receive a salary of $180,000 a year for part-time work at the Foundation for Moral Law, internal charity documents show. He collected more than $1 million as president from 2007 to 2012, compensation that far surpassed what the group disclosed in its public tax filings most of those years.

When the charity couldn't afford the full amount, Moore in 2012 was given a promissory note for back pay eventually worth $540,000 or an equal stake of the charity's most valuable asset, a historic building in Montgomery, Ala., mortgage records show. He holds that note even now, a charity official said…

Seven charity and tax law specialists consulted by The Post said the nonprofit's activities raised questions about compliance with IRS rules, including prohibitions on the use of a charity for the private benefit or enrichment of an individual.

"The biggest issue is the benefit to Roy Moore," said Paul Streckfus, a former tax lawyer at the IRS and editor of the EO Tax Journal, when told of The Post's findings.
When he was caught a couple weeks ago not disclosing over $100,000 in speaking income on his Senate disclosure forms, his spokesman claimed that it was all a conspiracy, that the information was on the form when they submitted it. He offered no evidence, of course, and it stretches credulity to the limit to believe that someone switched the forms. But he did the same thing when his son was arrested a couple days ago, for the 9th time. That was a conspiracy too, a politically-motivated arrest, like all the others, mostly drug charges and DUIs. Everything's a conspiracy against him.