Gabriel Sherman has an article citing several sources close to Trump saying that he is unraveling before their eyes, stalking the White House while raging in fury at a number of things not going his way. It all explains his behavior recently, which is getting even more unhinged.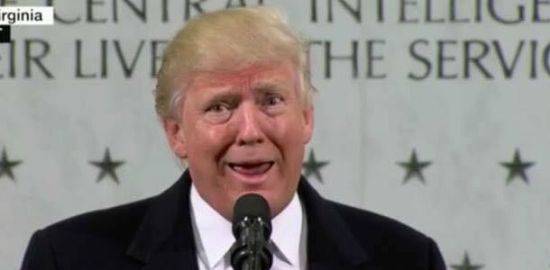 In recent days, I spoke with a half dozen prominent Republicans and Trump advisers, and they all describe a White House in crisis as advisers struggle to contain a president who seems to be increasingly unfocused and consumed by dark moods. Trump's ire is being fueled by his stalled legislative agenda and, to a surprising degree, by his decision last month to back the losing candidate Luther Strange in the Alabama Republican primary. "Alabama was a huge blow to his psyche," a person close to Trump said. "He saw the cult of personality was broken."

According to two sources familiar with the conversation, Trump vented to his longtime security chief, Keith Schiller, "I hate everyone in the White House! There are a few exceptions, but I hate them!" (A White House official denies this.) Two senior Republican officials said Chief of Staff John Kelly is miserable in his job and is remaining out of a sense of duty to keep Trump from making some sort of disastrous decision. Today, speculation about Kelly's future increased after Politico reported that Kelly's deputy Kirstjen Nielsen is likely to be named Homeland Security Secretary—the theory among some Republicans is that Kelly wanted to give her a soft landing before his departure.

One former official even speculated that Kelly and Secretary of Defense James Mattis have discussed what they would do in the event Trump ordered a nuclear first strike. "Would they tackle him?" the person said. Even Trump's most loyal backers are sowing public doubts. This morning, The Washington Post quoted longtime Trump friend Tom Barrack saying he has been "shocked" and "stunned" by Trump's behavior.
This is where all of this has inevitably leading. Trump is far too thin-skinned and egomaniacal to be in his position. Being president is like being in the dunk tank at the county fair and everyone is throwing baseballs at the target. Trump's fragile ego requires constant praise, and when he doesn't get it he explodes in rage. It's not like this is the first time this has happened, it happens all the time and it was happening long before he got involved in politics.
This is why I fully expect him to try to fire Robert Mueller. He cannot stand to be in the crosshairs of even the suggestion that he has ever done anything wrong because it destroys the basis for the perfect image he tries so hard to project.