Roy Eidelson, past president of Psychologists for Social Responsibility and a member of the Coalition for an Ethical Psychology, has an op-ed column in the Washington Post arguing, quite correctly, that psychologists who participated in the Bush torture regime need to be held accountable for their actions.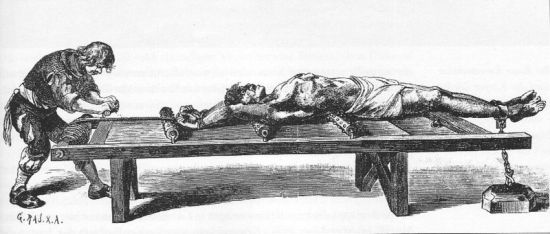 He begins by talking about the settlement of a lawsuit by James Mitchell and Bruce Jessen, the two psychologists who designed the torture program for the Bush administration. Details of that settlement are sealed, so we don't know what it entails, but they apparently kept their licenses to practice and, presumably, some portion of the more than $80 million they were paid. Either way, the fact that neither of them are in prison means they got off light. But Eidelson points out that they weren't alone:
After 9/11, Mitchell and Jessen were not the only psychologists who, drawn either by the call of patriotism or windfall paydays, acted as key players in a war machine that methodically broke the minds and bodies of its prisoners. Government policies required that a psychologist be on hand whenever a detainee was subjected to torturous techniques such as waterboarding. The perverse rationale: According to memos from government lawyers at that time, "close observation" by health professionals constituted clear evidence that there was no specific intent to cause severe pain or suffering.

The number of psychologists who were involved, directly or indirectly, in abusive detention operations is unknown. But it's likely that they were present at facilities across the globe, including CIA "black sites" in Afghanistan, Cuba, Thailand, Poland, Romania and Lithuania. None of these psychologists has ever been sanctioned for ethics violations by state licensing boards or professional associations — even the relative few whose identities are known. In part, this is because the American Psychological Association (APA) — the largest membership organization of psychologists in the world — did not effectively defend the profession's bedrock do-no-harm principles…

It's tempting to believe that the ACLU settlement with Mitchell and Jessen means the era of impunity for torture is over, even though neither of them suffered any serious consequences. But I doubt it, for at least three reasons. First, we have an authoritarian-minded commander in chief who's insisted that "torture works." During his campaign for the White House, Donald Trump declared that he would "bring back a hell of a lot worse than waterboarding." Since taking office, Trump has appointed both a CIA director who argued that the likes of Mitchell and Jessen are patriots, not torturers, and a deputy director who ran a CIA torture site and participated in the unlawful destruction of videotape evidence…

Third, although the belated reforms unfolding at the APA are certainly encouraging, they remain fragile. Influential factions within psychology, including some members of the military intelligence establishment, are trying to turn back the clock. They continue working to discredit the Hoffman report and its findings of years-long collusion, and to return operational psychologists to interrogation rooms and detention cellblocks. At the extreme, some opponents of recent policy changes have asserted that the APA has become "a willing co-conspirator to the likes of al Qaeda and ISIS."
The APA should be ashamed of themselves and forever discredited. The fact that not one person has been prosecuted for torture, something that is absolutely required by the UN Convention Against Torture that we helped push through to near-universal ratification, is a matter of deep national embarrassment. It undermines everything we say about supporting human rights. Why would anyone take such claims seriously at this point?