A few months before Fox News fired Bill O'Reilly for a history of sexual harassment, they signed him to a new $25 million a year contract. But the New York Times reports that when they did so, they knew that he had just settled a harassment suit by a Fox News contributor for a staggering $32 million.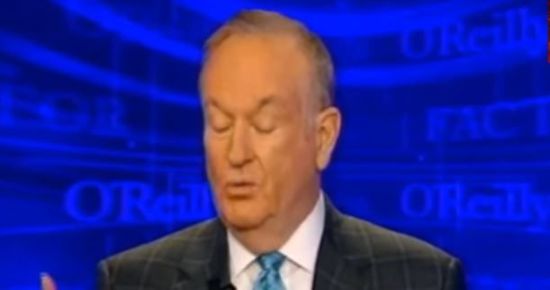 Last January, six months after Fox News ousted its chairman amid a sexual harassment scandal, the network's top-rated host at the time, Bill O'Reilly, struck a $32 million agreement with a longtime network analyst to settle new sexual harassment allegations, according to two people briefed on the matter — an extraordinarily large amount for such cases.

Although the deal has not been previously made public, the network's parent company, 21st Century Fox, acknowledges that it was aware of the woman's complaints about Mr. O'Reilly. They included allegations of repeated harassment, a nonconsensual sexual relationship and the sending of gay pornography and other sexually explicit material to her, according to the people briefed on the matter.

It was at least the sixth agreement — and by far the largest — made by either Mr. O'Reilly or the company to settle harassment allegations against him. Despite that record, 21st Century Fox began contract negotiations with Mr. O'Reilly, and in February granted him a four-year extension that paid $25 million a year.

Interviews with people familiar with the settlement, and documents obtained by The New York Times, show how the company tried and ultimately failed to contain the second wave of a sexual harassment crisis that initially burst into public view the previous summer and cost the Fox News chairman, Roger Ailes, and eventually Mr. O'Reilly, their jobs.
Which just goes to prove several things. First, that O'Reilly has a serious problem with being a sexual harasser. We already knew about the Andrea Mackris situation, but this is now six different women he's had to settle with. And you don't settle for an astonishing number like $32 million if you think you have any shot at all of winning in court. True to form, O'Reilly uses his children as human shields to pretend that he's totally innocent and just paid off a bunch of women who lied about him to spare them the embarrassment:
"It's politically and financially motivated," he said of the public outcry over the allegations against him, "and we can prove it with shocking information, but I'm not going to sit here in a courtroom for a year and a half and let my kids get beaten up every single day of their lives by a tabloid press that would sit there, and you know it."
Riiiight. Was that the same concern you showed for your daughter when you dragged her mother down the stairs by her hair, according to the daughter's own testimony? And how are your children doing with their embarrassment now that all of his has come crashing down around and and you've lost your job and your $25 million a year salary? Here's a thought: If you were actually concerned about your children being humiliated over allegations of sexual harassment, you wouldn't sexually harass anyone. Crazy, I know.
O'Reilly is a fraud, an ignorant blowhard with incredibly thin skin and an ego the size of Australia. He's pretty much a mirror image of Trump in so many ways, a man who lies as casually as he breathes and whose every utterance is about inflating his extraordinary ego. And he's also quite clearly a sexual predator.