In his typically juvenile fashion, Donald Trump is considering telling his judicial nominees to stop cooperating with the ABA's Standing Committee on the Federal Judiciary, which provides ratings for nominees to the federal bench, because they have rated a handful of his nominees as unqualified.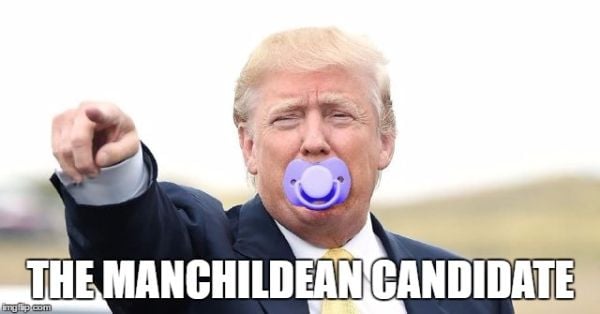 The White House may soon advise President Donald Trump's judicial nominees not to cooperate with the American Bar Association's independent vetting process, further weakening the dominant role the interest group has played for decades in judicial confirmations.

A source involved in the administration's confirmation operation told The New York Times that the White House may instruct future judicial nominees not to interview with the ABA's standing committee on the federal judiciary, or give the panel access to confidential disciplinary records.

Though the practice is not formally part of the confirmation process, the ABA has vetted federal judicial nominees since the Eisenhower administration, providing the Senate with reports grading each nominee on a spectrum from "unqualified" to "well qualified." President George W. Bush ended the practice during his administration, though the ABA's role was restored by President Barack Obama.
A small number of Trump's nominees have received ratings of "unqualified" from the committee, as of Nov. 7th (the other possibilities are "qualified" and "well qualified"). You can see the full list of their ratings on all of Trump's nominees
here
. You will see that of the 50 nominees rated so far, 29 of them have been rated as well qualified and 16 as qualified. Five have been called not qualified, but that rating is an accurate one, for reasons I've already documented here. In some cases, Trump has nominated people with almost no experience in the courtroom but a long track record of being right-wing cranks with bizarre views.
The ABA rates most judicial nominees, regardless of political party, as qualified or well qualified. Rarely do they call anyone not qualified. In fact, only Bush 43 and Trump have had any nominees rated that way since 1988. That doesn't mean the ABA is biased; if they were, they wouldn't have rated the overwhelming majority of nominees from those presidents so highly. It means there was a problem with that small number of nominees. But Trump can't abide even the mildest of criticisms, so he's threatening to take his ball and go home.
What is amusing about this is that he's upset over the ratings for people he is totally clueless about. He doesn't know any of those people, or their views, he was given a list and he signed off on it. And like most nominees, the people got on that list by sucking up to their senators, who then suggested them as judges regardless of their qualifications.