In an astonishing move, a group of high-ranking officials in the State Department have accused their boss, Secretary of State Rex Tillerson, of violating a federal law against selling weapons or providing military support for countries that use child soldiers in war.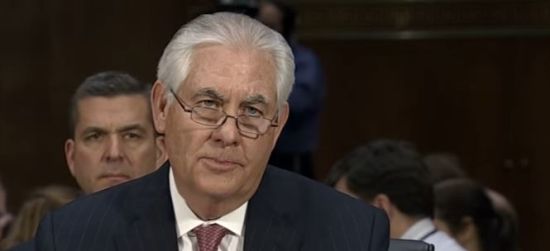 A group of about a dozen U.S. State Department officials have taken the unusual step of formally accusing Secretary of State Rex Tillerson of violating a federal law designed to stop foreign militaries from enlisting child soldiers, according to internal government documents reviewed by Reuters.

A confidential State Department "dissent" memo, which Reuters was first to report on, said Tillerson breached the Child Soldiers Prevention Act when he decided in June to exclude Iraq, Myanmar, and Afghanistan from a U.S. list of offenders in the use of child soldiers. This was despite the department publicly acknowledging that children were being conscripted in those countries. [tmsnrt.rs/2jJ7pav]

Keeping the countries off the annual list makes it easier to provide them with U.S. military assistance. Iraq and Afghanistan are close allies in the fight against Islamist militants, while Myanmar is an emerging ally to offset China's influence in Southeast Asia.

Documents reviewed by Reuters also show Tillerson's decision was at odds with a unanimous recommendation by the heads of the State Department's regional bureaus overseeing embassies in the Middle East and Asia, the U.S. envoy on Afghanistan and Pakistan, the department's human rights office and its own in-house lawyers. [tmsnrt.rs/2Ah6tB4] "Beyond contravening U.S. law, this decision risks marring the credibility of a broad range of State Department reports and analyses and has weakened one of the U.S. government's primary diplomatic tools to deter governmental armed forces and government-supported armed groups from recruiting and using children in combat and support roles around the world," said the July 28 memo.
The weird part of this is that Tillerson could have gotten around this perfectly legally merely by certifying that, despite those nations using child soldiers, it was in the national interest of the United States to continue to provide military support in order to fight against terrorism. That case would not have been difficult to make with respect to Iraq and Afghanistan, for fairly obvious reasons, and the law allows him to grant such waivers. The Obama administration did exactly that on a yearly basis in similar circumstances.
So why would he choose instead to claim that they don't belong on the list of countries that use child soldiers when his own department says they do? Personally, I chalk it up to the Trump administration's dedication to being in a state of perpetual war against reality, a war in which they act like children themselves by sticking their fingers in their ears and yelling LA LA LA LA LA LA LA whenever confronted with facts they don't like.