Another piece of evidence that the allegations against Roy Moore for creeping on teenage girls are true: A former cop in the city where he worked in Alabama says that he and other officers were told to keep an eye on Moore and keep him away from the cheerleaders at local high school football games.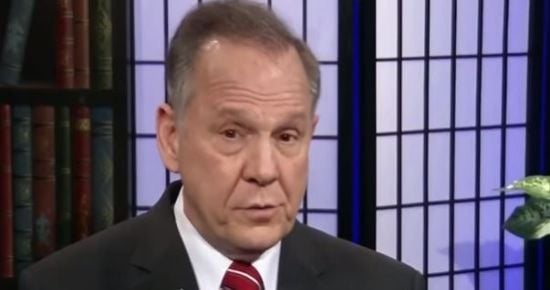 "We were advised that he was being suspended from the mall because he would hang around the young girls that worked in the stores and, you know, really got into a place of where they say he was harassing," former Gadsden police officer Faye Gary told MSNBC on Tuesday.

Several women, most of whom were teenagers at the time, have accused Moore of pursuing and harassing them at the local Gadsden Mall, in Gadsden, Ala, in 1977. Moore was in his 30s at the time.

Several sources told The New Yorker that Moore's interest in young women at the mall was well-known at the time. A local Alabama reporter has also claimed Moore was banned at some point from the mall because of his actions.

"And we were also told to watch him at the ball games, and make sure that he didn't hang around the cheerleaders," according to Gary on MSNBC.

Gary was pressed on whether these were just rumors or if she was actually given instructions from her superiors. She didn't make clear where the instructions came from, but she said the rumor was that Moore "likes young girls."
This seems to have been well-known to pretty much everyone in the community at the time, according to several people who lived and worked in Gadsden. That clearly lends credibility to his accusers and helps back up their stories, though it doesn't provide definitive proof (nothing will do that at this point, of course). The evidence continues to accumulate and he and his supporters keep digging their heels in deeper.
Well, some of them. Some of his supporters are taking a different tactic, not saying he didn't do it but that it was okay that he did for one of a number of absurd reasons.