James O'Keefe, the bumbling frat boy who likes to dress like Huggy Bear, has screwed up another sting operation. He sent a woman to the Washington Post to tell a story of Roy Moore raping her when she was 17, presumably to show that they'll just print any allegation and thus undermining the credibility of the Roy Moore story. There was just one problem: The reporter figured out she was being conned very quickly.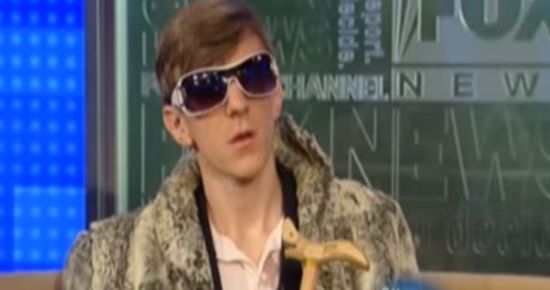 A woman who falsely claimed to The Washington Post that Roy Moore, the Republican U.S. Senate candidate in Alabama, impregnated her as a teenager appears to work with an organization that uses deceptive tactics to secretly record conversations in an effort to embarrass its targets.

In a series of interviews over two weeks, the woman shared a dramatic story about an alleged sexual relationship with Moore in 1992 that led to an abortion when she was 15. During the interviews, she repeatedly pressed Post reporters to give their opinions on the effects that her claims could have on Moore's candidacy if she went public.

The Post did not publish an article based on her unsubstantiated account. When Post reporters confronted her with inconsistencies in her story and an Internet posting that raised doubts about her motivations, she insisted that she was not working with any organization that targets journalists.

But on Monday morning, Post reporters saw her walking into the New York offices of Project Veritas, an organization that targets the mainstream news media and left-leaning groups. The organization sets up undercover "stings" that involve using false cover stories and covert video recordings meant to expose what the group says is media bias.
O'Keefe had no comment. He's really bad at this. When he does successfully do a "sting" he edits it so dishonestly that it's obvious how slanted it is. And he often fails, once getting arrested pretending to be telephone techs in order to plant something in a senator's office. He really should just give up and go get a job on talk radio, his natural habitat. On second thought, he should keep going. All he did was prove the exact opposite of what he set out to do, that the Washington Post does have serious standards that have to be met before they'll print a story. They do the work necessary to make sure it's credible. And he and the little stooge he sent in there have none.
Oh, and by the way: Guess who gave a donation to O'Keefe's organization? Donald Trump's "charity." It gave $10,000 to him to make videos falsely claiming that the Clinton campaign was paying anti-Trump protesters.