Roy Moore is not just your typical run-of-the-mill Christian conservative, he is, as I call him continually, a Christian fascist. Specifically, he's a Christian Reconstructionist, someone who thinks the Mosaic law should be enforced as the civil and criminal law of the land. Which explains why he co-authored a curriculum that argues that women should not be allowed to hold public office.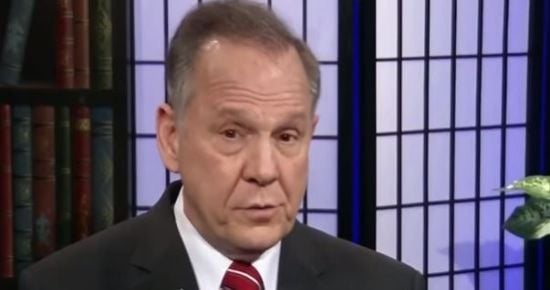 The course is called Law and Government: An Introductory Study Course and it was created by the Christian Reconstructionist Vision Forum, primarily for use by homeschooling parents. Moore is listed as one of the four co-authors of that course, which includes both texts and videos from him and the other authors. Vision Forum was created by Doug Phillips, son of Howard Phillips, who created the absurdly named Constitution Party. It's not a coincidence that Moore's primary financial backer, Michael Peroutka, was the Constitution Party candidate for president in 2004, as he is also a Reconstructionist. Anyway, on to that course study:
Alabama Republican Senate Candidate Roy Moore co-authored a study course, published in 2011 and recently obtained by ThinkProgress, that instructs students that women should not be permitted to run for elected office. If women do run for office, the course argues, people have a moral obligation not to vote for them. The course is also critical of the women's suffrage movement, which in 1920 secured some American women the right to vote…

For at least a decade, dating back to 1999, Moore served on the "faculty" of Vision Forum's so-called "Witherspoon School of Law and Public Policy." Not a school at all, Witherspoon was instead a series of four-day crash courses that taught men — and only men — that the Bible is the source of "law and liberty and the only sure foundation for addressing the challenging ethical questions of the twenty-first century."…

He also openly praises both Phillips and Vision Forum, saying, "As I think about what's going on here at Vision Forum and what Doug's doing and has done, I'm a little envious because I admire Doug and the fact he can round up these young men that are going to make a difference in our nation."
The link above includes screenshots and quotes from the course, which says of women, She's not a warrior. She's not a judge. She's a woman. Created by God. Glorious in her place and in her conduct and in her role. Nothing is said in scripture that supports the notion that she is qualified or called to be a civil magistrate." It explicitly teaches that it is heresy to ever vote for a woman for any public office because "it is not God's revealed will for a woman to serve as a civil magistrate and thus to rule over men in the civil sphere."
And now for a heaping helping of irony: Vision Forum closed down a couple years ago. Wanna know why? Because Phillips was caught having a longstanding affair with a woman other than his wife. Guess when that affair began? When his mistress was 15 years old.