On Wednesday morning, Donald Trump retweeted three videos shared by far-right fringe group in England purporting to show Muslims attacking people, including a boy on crutches. The response was immediate and Sarah Huckabee Sanders admits that they may not be real, but that doesn't matter.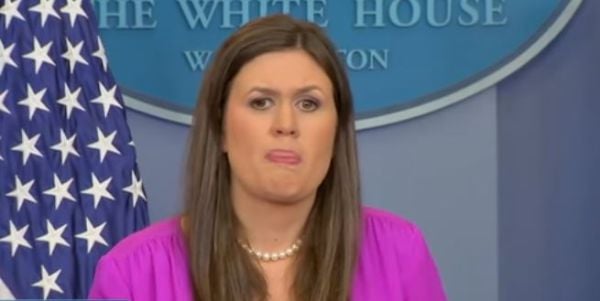 White House Press Secretary Sarah Huckabee Sanders said Wednesday that it doesn't matter whether the anti-Muslim videos retweeted by President Donald Trump are real or not, because "the threat is real."

Trump shared three videos on Twitter early Wednesday from the deputy leader of an ultranationalist, far-right fringe group in Britain. The group, Britain First, claims to be fighting the "Islamization" of England, and the graphic videos purported to show Muslims committing violent crimes…

Within minutes of Trump's retweets, numerous news outlets reported that a number of the videos' titles were false or misleading.

Sanders, however, told reporters that by focusing on "the nature of the video, you're focusing on the wrong thing."

"The threat is real, what the president is talking about, the need for national security and military spending, those are very real things, there's nothing fake about that," she said.
Now remember, this is the same guy who rants endlessly about "fake news" (a label he applies to accurate news that makes him look bad or does not support his agenda). But suddenly whether the information is accurate or not just doesn't matter. Don't focus on the fake news he's spreading, focus on what he wants you to focus on. That's your job as reporters, isn't it? To do the bidding of the government and report only what they want you to report?