One of Roy Moore's multiple accusers who say he pursued them sexually when they were only teenagers and he was a district attorney in his 30s has produced a high school graduation card he gave her with a handwritten inscription. This after he lied and said he didn't know who she was (which also contradicted his previous statement about her).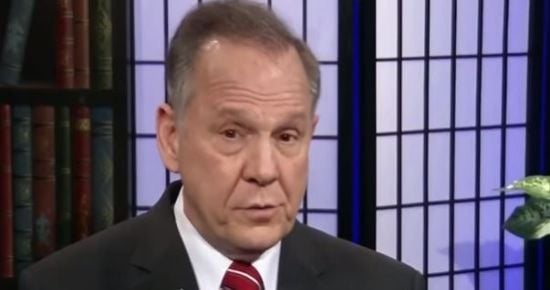 "Happy graduation Debbie," it read in slanted cursive handwriting. "I wanted to give you this card myself. I know that you'll be a success in anything you do. Roy."

The inscription, Gibson said, was written by Roy Moore, the Alabama Republican nominee for U.S. Senate who in recent days has repeatedly denied the accounts of five women who told The Washington Post that he pursued them when they were teenagers and he was an assistant district attorney in his 30s. Since those allegations were published last month, four more women have come forward to allege that Moore made unwanted sexual advances. The accounts in The Post included those of Leigh Corfman, who said she was 14 when Moore touched her sexually, and Gibson, who said that she publicly dated Moore when she was 17 and he was 34, a relationship she said she "wore like a badge of honor" until she began reevaluating it in light of the accounts of other women, and now, Moore's own denials.
This is now the third different story. When the initial accusations were made, he told Sean Hannity that he didn't know who Corfman was, but he knew Debbie Wesson Gibson. He said she was a "good girl" but he didn't remember dating her. And if he had, he wouldn't have dated her without her mother's permission. But then on Nov. 27th, at a campaign rally, he said, "The allegations are completely false. They are malicious. Specifically, I do not know any of these women." And now it's proven that he did know her. He can't seem to keep his story straight on this at all. It's so much easier to do when you're not lying.