Newsweek reports on comments made by Roy Moore while campaigning a few months ago when he was asked when he thought America had last been a great nation. His response: During slavery. Because the family was "united." Whatever the hell that means.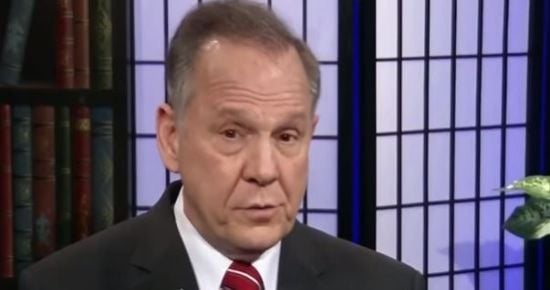 At a campaign event earlier this year, an audience member asked Moore for his opinion on when the last time America was "great." Moore responded: "I think it was great at the time when families were united—even though we had slavery—they cared for one another…Our families were strong, our country had a direction." The individual who asked the question was among the few African-Americans in attendance at the rally, according to the Los Angeles Times. In stating this, Moore seemingly implied he'd be able to overlook the enslavement of other human beings as long as families are "united," an interesting perspective from a man accused of repeatedly preying on young girls.
It's especially ironic given that slave owners routinely broke up the families of slaves, selling husbands, wives and children to other slave owners. I guess slavery didn't help "unife" those families or "make them strong." But those families don't count anyway, amirite? Remember, this is a guy who lets the pro-slavery white supremacist group League of the South use his building for their annual Secession Day event.
The only thing I can think that he means is that the divorce rate was lower in the mid-1800s than it is now, so families were more often "united" rather than broken up. Of course, life expectancy was also far lower than it is now due to better diet and medical care. But no, that did not make America great. At that point, we were still a country led largely by white supremacists. We denied all rights to blacks and most rights, including the right to vote, to women. That is shameful, not great.