From the Annals of Irony: Donald Trump threw a tantrum after my former AINN colleague Dave Weigel mistakenly posted a picture from his recent rally in Pensacola showing a lot of empty seats. Turned out the image was of a secondary seating part before the main hall had filled up.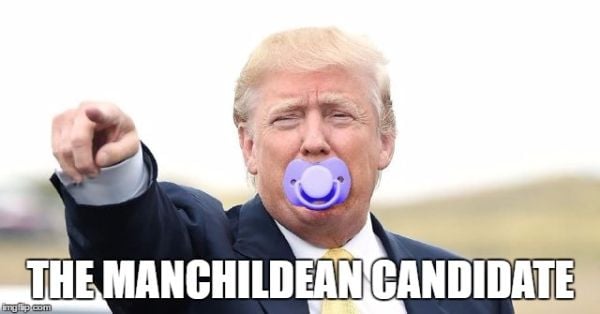 President Trump on Saturday evening issued a call for a reporter with The Washington Post to be fired because of a quickly deleted tweet that presented a misleading impression of Trump's rally crowd in Florida.

The Post reporter, David Weigel, had earlier tweeted a photo of the crowd gathered at Pensacola Bay Center for Trump's speech there Friday evening, showing numerous empty seats. He removed the tweet after being told by others that the photo was taken before the venue filled up and apologized in a later Twitter exchange with the president.

Trump's public response: ".@daveweigel of the Washington Post just admitted that his picture was a FAKE (fraud?) showing an almost empty arena last night for my speech in Pensacola when, in fact, he knew the arena was packed (as shown also on T.V.). FAKE NEWS, he should be fired."
To repeat, for emphasis: Donald Trump, whose twitter feed is made up of the two substances of lies and childish overreactions, wants someone else fired for an inaccurate tweet that was immediately retracted and apologized for. What Dave did was sloppy, to be sure, but it's the kind of thing that can easily happen with a still picture. If you don't know the context, a single picture can very easily give a skewed idea of what was going on. And when he learned that the context changed the accuracy of the image, he deleted it and apologized. What more could he do than that? Dave is an excellent reporter. He's far better at his job than Trump could ever be.
In honor of this week's release of the new Star Wars movie: