If there is one thing you can count on from today's right-wing figures, it's a near-total lack of self-awareness. Perhaps it's unintentional, perhaps it's not; it probably varies by individual. But former Milwaukee County Sheriff David Clarke put this inability to recognize irony and contradiction on stark display after being banned from twitter for making violent threats.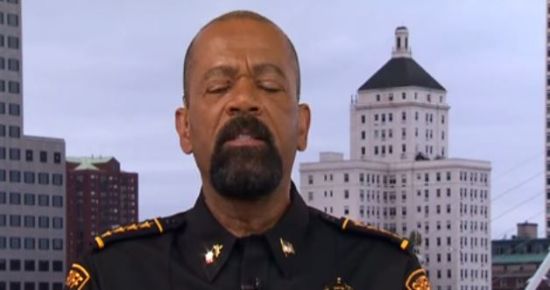 A little background. His former department is being sued by someone claiming that Clarke conducted an illegal interrogation of the plaintiff. CNN did a report on the suit and Clarke pretty much lost it, tweeting and then later deleting, ""When LYING LIB MEDIA makes up FAKE NEWS to smear me, the ANTIDOTE is go right at them. Punch them in the nose & MAKE THEM TASTE THEIR OWN BLOOD." Not sure what was fake news about it. Was a suit not filed? Nope, it was filed. That's all a matter of public record. At some point he must have realized how deranged this made him sound because he deleted the tweet, but not before a great many complaint were made that this was a violation of Twitter's terms of service. His account was then suspended, which is where the lack of self-awareness kicked in. Once it was reinstated, he tweeted out:
I will NOT be Intimidated into silence by LYING LIB MEDIA. I will NOT be intimidated by LIBERAL hyper partisan government HACKS who weaponize government authorirty to go after people whose views they don't like. I will STAND AND FIGHT for TRUTH & what I believe is RIGHT. JOIN ME. pic.twitter.com/8yLEQvRSpX

— David A. Clarke, Jr. (@SheriffClarke) January 2, 2018
Halloween is over, dude. Take off the cowboy costume. You're from Wisconsin, for crying out loud. But about that lack of self-awareness. He won't be intimidated into silence when his threats of violence were intended to intimidate others into silence. That's why he threatened the violence in the first place. But if you don't let him silence others, you're silencing him! And if you don't let him discriminate against people, you're discriminating against him! And if he isn't allowed to take away other people's freedom, you're taking away his freedom! It's all quite Orwellian, isn't it?
But he knows that this kind of thing plays really, really well with his target audience. The people who support him love this kind of macho posturing and will cheer for it all day long.