Michael Wolff has a new book coming out next week called Fire and Fury: Inside the Trump White House and it contains some serious quotes from Trump associates that are causing major headaches for Trump as excerpts of the book are published around the web to promote it.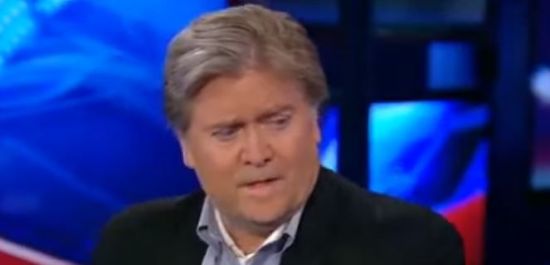 One of the first to hit was a quote from Steve Bannon, apparently offered when Wolff interviewed him rather than being based on someone else saying he said this:
He is particularly scathing about a June 2016 meeting involving Trump's son Donald Jr, son-in-law Jared Kushner, then campaign chairman Paul Manafort and Russian lawyer Natalia Veselnitskaya at Trump Tower in New York. A trusted intermediary had promised documents that would "incriminate" rival Hillary Clinton but instead of alerting the FBI to a potential assault on American democracy by a foreign power, Trump Jr replied in an email: "I love it."

The meeting was revealed by the New York Times in July last year, prompting Trump Jr to say no consequential material was produced. Soon after, Wolff writes, Bannon remarked mockingly: "The three senior guys in the campaign thought it was a good idea to meet with a foreign government inside Trump Tower in the conference room on the 25th floor – with no lawyers. They didn't have any lawyers.

"Even if you thought that this was not treasonous, or unpatriotic, or bad shit, and I happen to think it's all of that, you should have called the FBI immediately."
He also told Wolff that the Mueller investigation is going to end up focusing largely on money laundering — that's what Manafort has already been charged with — and that "They're going to crack Don Junior like an egg on national TV." This is apparently not sitting well with Trump.
Inside the White House, a bunker mentality took hold Wednesday. There was a sense of palpable anger at the quotes Bannon gave to Wolff for his book. According to White House sources, Trump personally dictated key parts of the statement bashing his former chief strategist to senior communications staff, including Communications Director Hope Hicks. He was emphatic about including put-downs such as "Steve Bannon has nothing to do with me or my Presidency. When he was fired, he not only lost his job, he lost his mind," and "Now that he is on his own, Steve is learning that winning isn't as easy as I make it look. Steve had very little to do with our historic victory…"
Oh boy, pass the popcorn. We know that Bannon has been in continual contact with Trump since leaving the White House and that he has remained a close advisor. Will that still be the case now? I'm betting it will, after some time in Trump's doghouse. It isn't the first time we've seen a rift between them that was later forgiven. But if it does become a permanent rift, there could be major repercussions. Bannon has stuck with Trump, I think, because he believes that's his best chance to get his own nationalist agenda passed. If he becomes convinced that Trump can't or won't be the vehicle for getting those things done, you know he has some major dirt to throw if he chooses to. This is going to be a lot of fun to watch.