Paula White, Donald Trump's chief "spiritual adviser," is, even by the standards of prosperity gospel con artists, extraordinarily audacious. She's telling her followers to send her an entire month's salary or God will make sure they suffer the consequences for their lack of faith.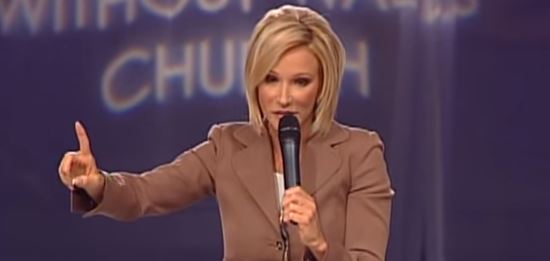 "Each January, I put God first and honor Him with the first of our substance by sowing a first fruits offering of one month's pay. That is a big sacrifice, but it is a seed for the harvest I am believing for in the coming year. And God always provides!" White explains on her website.

She explained the difference between the tithe, usually 10 percent of earnings, and the first fruit donation.

"The difference between tithe and first fruit, first fruit is all of it," she told congregants at the New Destiny Christian Center in Apopka, Florida, according to the Orlando Sentinel. "All of what? Well, if you want to bring God all of one day's salary, one week's salary or one month's salary, that's between you and God. … I try to bring a month's salary, but at the very least every year I give God a week's salary."
Wouldn't you love to know how she "gives" that month's salary? She can't give it to God because he has no fixed address. To whom does she give it? I bet she gives it to herself, to her own ministry. But then she tells others to give their own salaries to whom? To her, which more than makes up for it. And if they don't…well, something bad is going to happen.
"It is the basis or underlying support for your success in 2018. It is GOD'S PRINCIPLE OF FIRST FRUITS. All Firsts belong to God. When you honor this principle it provides the foundation and structure for God's blessings and promises in your life, it unlocks deep dimensions of spiritual truths that literally transform your life! When you apply this everything comes in divine alignment for His plan and promises for you. When you don't honor it, whether through ignorance or direct disobedience there are consequences," White warns.
Oooh, consequences. Her big bad buddy is going to punish you if you don't send her money. This is the prosperity gospel con game with a little mafia intimidation along with it — "That's a beautiful life you got there. Be a shame if something happened to it. If you'll just give me a few thousand dollars, I'll make sure you have the protection you need." And this from a woman who is on her third marriage, who cheated on her first husband with her second husband and is now married to the keyboardist from Journey. Hey, that sounds a lot like Trump, doesn't it? No wonder they get along. Not only do they run the same con, one religious and one secular, but they behave the same way.