Last year when he was asked if he would testify under oath as part of Robert Mueller's investigation into Russian meddling in the election, Trump said yes "one hundred percent." But after multiple reports that his attorneys are trying to keep him from doing so, he's now publicly wavering on that promise.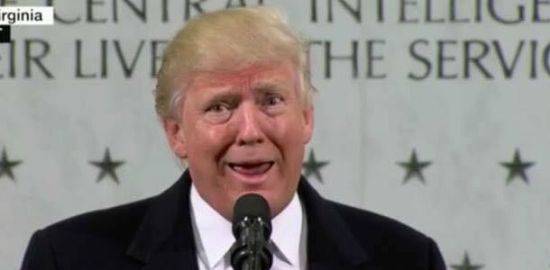 President Trump on Wednesday declined to commit to being interviewed by the special counsel investigating whether his campaign colluded with Russia to sway the 2016 election, backing off a promise he made last year to talk to Robert S. Mueller III under oath.

"I'll speak to attorneys," Mr. Trump told reporters in the East Room during a news conference with Prime Minister Erna Solberg of Norway, when asked whether he would speak with Mr. Mueller without preconditions. "We'll see what happens."

The dodge was a marked change from last June, when Mr. Trump defended his firing of the F.B.I. director, James B. Comey, denying that it was related to his handling of the Russia investigation, and said he would "100 percent" be willing to give a sworn statement to Mr. Mueller.
His attorneys are really desperate to keep him from testifying under oath, and for good reason. They know that he has a serious problem with verbal diarrhea and that he is easily led into traps where he contradicts himself and is forced to admit to having lied. It's happened in many depositions before, and that was with fairly mediocre attorneys. Mueller's prosecutors will eat him for lunch and they know it. They'll have him admitting to killing Kennedy by the time it's done.