I wish I'd thought of the title that Andrew Sullivan used to use on his blog for stories like this: "From the annals of chutzpah." Jeff Sessions made an appearance in honor of Martin Luther King day and heaped praise upon a man he would have railed against if he were politically active at the time.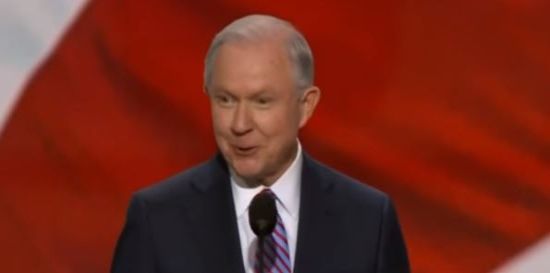 "I regularly saw raw, unvarnished discrimination against a whole people because of the color of their skin," Sessions said at a commemorative program for the late civil rights leader. " . . . I can remember riding on an all-white school bus and passing every morning an all-black school bus. Just one look at the buses was enough to know that separate was not equal."

Sessions praised King, who he said "helped transform our legal system by inspiring some of the transformative laws that we in this building enforce today," referencing the Civil Rights Act of 1964, the Voting Rights Act of 1965 and the Fair Housing Act of 1968.

"All he had were his words and the power of truth," Sessions said. " . . . His message, his life and his death changed hearts and minds. Those changed souls then changed the laws of this land."
Yeah, he was so moved and inspired by King's courageous fight against racial injustice that he has spent his entire political career undermining every achievement the civil rights movement ever made, from the anti-discrimination laws to the Voting Rights Act to the Fair Housing Act. This was a man who was deemed so racist that he was voted down for a federal judgeship by the Senate, something that happens rarely. And irony wept.
If Martin Luther King were alive today, he would be leading protests against Sessions at every opportunity and he would have been doing so for decades now.