Hudsonville is a town just a few miles from me and they have a long history of blatantly violating separation of church and state in the public schools there. After my friends at the Michigan Association of Civil Rights Activists (MACRA) complained about one teacher, they've decided maybe they should train their teachers on what they can and can't do.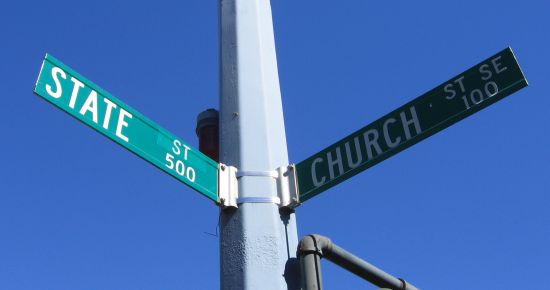 Last fall, the district launched an investigation when Baldwin Street Middle School teacher Jeff Henderson was accused in November of holding Bible study in his classroom prior to school and engaging in faith discussions during school hours…

School attorney Catherine Tracey's investigation confirmed that Henderson, who youth ministry director at this church, had engaged in religious interactions with students during the school day. He also solicited prayer requests through a Prayer Mail/Care Mailbox, which he was instructed to remove.

But the Bible study was not deemed a violation of district policy or the Establishment Clause for various reasons, including because it does not occur during school hours…

On March 1, Smith said attorney Katie Broaddus with the Thrun Law Firm will be lead principals and central office administrators in a two-hour Establishment Clause workshop that is open to others within the Ottawa Area ISD.

Smith said principals will then be required to engage teachers and other employees in a conversation regarding religious interactions at staff meetings to ensure there is a clear understanding of what crosses the line.

He said handouts are also now being developed with Thrun defining the Establishment Clause, explaining how it specifically relates to school employees, when is an action in violation, and providing examples of court cases.
A suit may still be filed over the Bible study before school starts, but this is a good development overall. And it needs to be replicated nationwide. These problems are so pervasive all over the country that the Department of Education should force all public schools to have a mandatory in-service day to train teachers and administrators on what the law says they can and cannot do within the parameters of the First Amendment.
A good place to start with that training would be with a document prepared by a diverse coalition of organizations back in the 90s, and updated in 2011. The First Amendment Center's Teacher's Guide to Religion in the Public Schools addresses virtually every situation likely to arise and it has been endorsed by groups from both sides of the spectrum, from the Christian Legal Society to the National Education Association. They can use that as the basis for the training, give a copy of it to every single teacher in the country and explain how to use it.
And after that? Hold them accountable. If they are found to be in violation of those guidelines, they have no excuse for it and you know they're doing it willfully and defiantly. And then they should be fired.