The disgusting Jesse Lee Peterson, a black Uncle Tom who denies the very existence of racism, has begun doing interviews with white supremacists. He's welcomed several of them on to his show and most recently went on a show that is named after the act of Holocaust denial.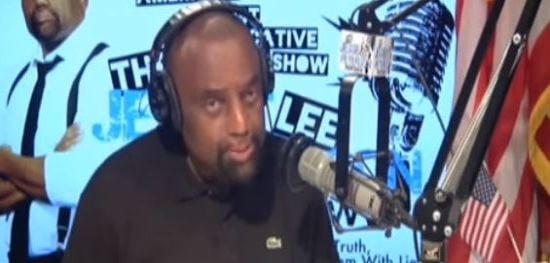 Earlier this week, that tour included a stop at a white nationalist podcast called "The Daily Shoah," whose name is an anti-Semitic reference to the Holocaust.

Peterson said he had an intern that was familiar with the white nationalist alt-right movement and that he took to scheduling interviews on alt-right programs because "he believed that we can help one another, I guess." Peterson went on to explain his long-held belief that there is "no such thing as racism," and that the "myth" of racism was created by people to "divide and conquer."

In the past year or so, Peterson has been openly promoting white nationalists, using his own platform to feature alt-right activists such as Richard Spencer, Johnny Benitez, Christopher Cantwell and Jared Taylor.
A black man going on a white supremacist radio show and inviting white supremacists on to his show to tell them that racism doesn't exist. How many levels of irony can one achieve in one singular moment? Of course, they share a regressive and dangerous ideology. Many of those racist jerks are also misogynist jerks like Jesse and agree with him that women shouldn't have the right to vote. I've got a better idea. How about anyone who thinks women shouldn't have the right to vote shouldn't have the right to vote?