Paul Manafort's right hand man, Rick Gates, is changing his plea to guilty on fraud and money laundering charges brought by Robert Mueller, and he has agreed to testify against his former boss. This does not directly involve Russian interference or collusion, but those are the charges most likely to implicate Trump and those closest to him (along with obstruction of justice).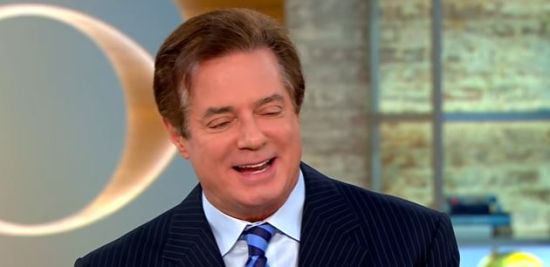 A former top aide to Donald Trump's presidential campaign will plead guilty to fraud-related charges within days — and has made clear to prosecutors that he would testify against Paul Manafort, the lawyer-lobbyist who once managed the campaign.

The change of heart by Trump's former deputy campaign manager Richard Gates, who had pleaded not guilty after being indicted in October on charges similar to Manafort's, was described in interviews by people familiar with the case.

"Rick Gates is going to change his plea to guilty," said a person with direct knowledge of the new developments, adding that the revised plea will be presented in federal court in Washington "within the next few days."
None of this stems from actions taken on behalf of Trump, it has to do with money that Manafort, and thus Gates, was paid by others that was apparently not claimed as income and was hidden overseas as part of money laundering schemes. It seems very likely that Trump and his family will face similar charges, but that would involve entirely different pools of money and would not involve Manafort, so this likely does not have a direct impact on Trump. But that's just informed speculation at this point. We don't know what else Mueller has, and the fact that the money Manafort hid came from a Ukrainian politician and oligarch with close ties to Putin means there might be some connections there that we don't know about yet. Time will tell.
And Mueller may well be using this to ratchet up the pressure to get Manafort to flip on Trump. Prosecutors are always trying to move up the chain and catch the big fish, not the lower level guys or mid-level management. They want the executives.