The Senate failed to pass a compromise bill on comprehensive immigration reform last week and Trump promptly blamed the Democrats for abandoning the DREAMers, but the Washington Post reports that the bill was killed by a last-minute flurry of lobbying from the White House to scare Republicans from voting for it.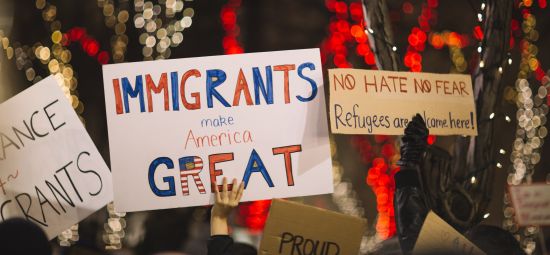 As much of the country was gripped Wednesday by horrific images from the mass shooting at a Florida high school, two dozen senior Trump administration officials worked frantically into the night to thwart what they considered a different national security threat.

The looming danger on the minds of the officials was a piece of legislation scheduled for a vote the next day in the Senate. It was designed to spare hundreds of thousands of young immigrants known as "dreamers" from deportation — but to the men and women huddled in a makeshift war room in a Department of Homeland Security facility, the measure would blow open U.S. borders to lawless intruders.

"We're going to bury it," one senior administration official told a reporter about 10:30 that evening.

The assault was relentless — a flurry of attacks on the bill from DHS officials and the Justice Department, and a veto threat from the White House — and hours later, the measure died on the Senate floor.

The Trump administration's extraordinary 11th-hour strategy to sabotage the bill showed how, after weeks of intense bipartisan negotiations on Capitol Hill, it was the White House that emerged as a key obstacle preventing a deal to help the dreamers.
Now bear in mind that this was not a standalone bill to codify DACA and allow the DREAMers to avoid deportation, something that Trump himself has said he wanted numerous times. In order to make that happen, the Democrats had also agreed to spend $25 billion for Trump's border wall — you know, the one he continually, and dishonestly, claims Mexico will pay for.
That is higher than any estimate of the cost of that wall that Trump himself has given. His own estimates of the cost to build the wall have been all over the place, starting with $4 billion and ending up at $20 billion. The Democrats agreed to give him more money than he asked for to build the wall in exchange for a policy that he says he favors as well and that was not good enough for him. He not only threatened to veto the bill, he lobbied to kill it so he wouldn't have to take responsibility for having done so.
And why? Because he was demanding even more. He was demanding draconian curbs on legal immigration as well. What's the argument we always hear? We can't let them come here illegally, they should have to wait in line and go through the process to come here legally. But then he wants to make that avenue far more difficult too. As usual, he's talked out of both sides of his mouth on this. He told the DREAMers last year when he ended DACA that they should "rest easy" because he would not deport them. In fact, he wanted Congress to codify DACA into law rather than an executive order to ensure that they could stay.
He was lying. Faced with the chance to do that and to fulfill his most consistent campaign promise at the same time, he worked overtime to kill the bill and now hundreds of thousands of young immigrants face deportation back to countries they don't know at all. All to appease a bunch of racists and white supremacists.