This weekend was the Munich Security Conference, a major gathering of the world's foreign policy leaders, including members of the Trump administration and Congressional leaders. They spent their time telling foreign leaders that they should ignore Trump's tweets and public statements. Seriously.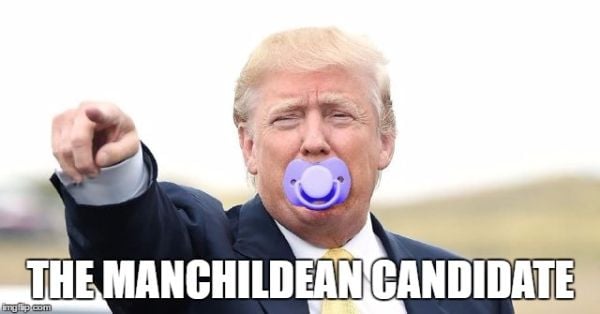 Amid global anxiety about President Trump's approach to world affairs, U.S. officials had a message to a gathering of Europe's foreign policy elite this weekend: Pay no attention to the man tweeting behind the curtain.

U.S. lawmakers — both Democrats and Republicans — and top national security officials in the Trump administration offered the same advice publicly and privately, often clashing with Trump's Twitter stream: The United States remains staunchly committed to its European allies, is furious with the Kremlin about election interference and isn't contemplating a preemptive strike on North Korea to halt its nuclear program…

The determination to ignore Trump's foreign policy tweets has been bipartisan.

"There is a lot more support for continuing our past policies than it might appear from some of the statements," Sen. Jeanne Shaheen (D-N.H.) told an audience on Sunday that was made up mostly of Europe's foreign policy elite. "The unanimity comes from those folks who are actually operationalizing policy."

"The values are the same, the relationships are the same," said Rep. Michael R. Turner (R-Ohio). "What you do see is this administration willing to put pressure upon the systems."

The question of whom they should believe — the president or his advisers — has befuddled European officials. German Foreign Minister Sigmar Gabriel confessed Saturday that he didn't know where to look to understand America.

"Is it deeds? Is it words? Is it tweets?" he asked.
I just finished reading Michael Wolff's book and one of the primary things that stands out in it is the degree to which virtually everyone around him, with the possible exception of Hope Hicks, who seems to be an absolutely unquestioning Trump toady, views their job in the administration as preventing Trump from being even worse than he is. They go to great lengths to coddle him, constrain him, hide things from him that might send him off on another rage-filled tirade that will cause him to make terrible decisions. Even his own children, Jared and Ivanka, see themselves as playing that role (though their advice has often caused him to make his worst decisions, like firing James Comey).
This is what we've been reduced to. We have a toddler in the White House and everyone is trying to keep him from crapping on the rug. With the ouster of Steve Bannon, one would have thought that his worst influence, the one most likely to lead him down a dangerous path when it comes to foreign policy, was gone. And it's true that Jared and Ivanka, the only ones left with serious influence on him, have a much more mainstream view of such matters. But Trump, in the end, is uncontrollable. The combination of his endless ignorance, overwhelming ego (and thus supernatural confidence in his own gut instincts and snap judgments) and tendency to self-sabotage is a very, very dangerous one.
My only hope at this point is that we can get him out of office before his term is up and that the country manages to recover from this appalling and embarrassing reality.