I just read this article about Emma Gonzalez, one of the survivors of the mass shooting at Marjory Stoneman Douglas High School and I kind of want to hit the fast forward button and go 20 years into the future so we can vote for her to be president. Leading this fight over gun control is not out of the norm for her; she was a born activist.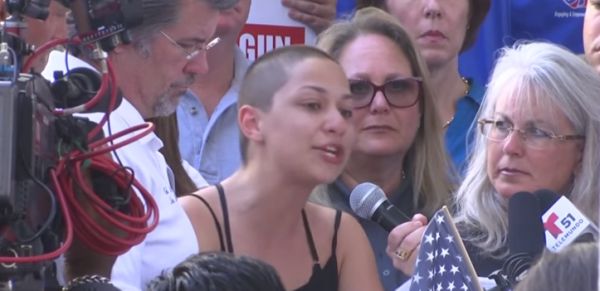 "If the President wants to come up to me and tell me to my face that it was a terrible tragedy and how it should never have happened," she said during her speech, "and maintain telling us how nothing is going to be done about it, I'm going to happily ask him how much money he received from the National Rifle Association."

Since delivering a speech she prepared with one night's notice, González has become gun control advocates' most sought after talking heads; a bisexual activist who has been advocating for causes she believes in as the president of Marjory's GSA. She's had to start a Twitter account (already verified) because she'd caused so much conversation. Public figures, celebrities, and everyday people were sharing thoughts and links; thinkpieces were spawned, donations made, and most of all, there is hope for change…

Emma González is the portrait of empowerment, and she's inspiring a movement that includes us all; one that is not asking for, but demanding a safety that is no longer promised or assured by current administration. And as she continues her advocacy into the March For Our Lives on March 24, it appears the NRA might have finally mets its match in a teenage girl.

"This is my whole world now," she told The New York Times. "I cannot allow myself to stop talking about this."
Good for you. And you really should watch this video of Sam Zeif, another survivor who lost his best friend in the shooting, speaking to Trump at the White House. If you can watch this without tears, I'll be amazed. This kind of eloquence in the course of such overwhelming grief is astonishing. And his passionate demand that our leaders do something is a powerful battle cry. The kids aren't just alright, they're incredible.