Having apparently flipped his right-hand man Rick Gates, Special Counsel Robert Mueller has filed a superceding indictment for former Trump campaign manager Paul Manafort that includes 32 new criminal charges, most of them involving tax evasion. But some of those charges also were filed against Gates as well, who is reported to have plea deal in place.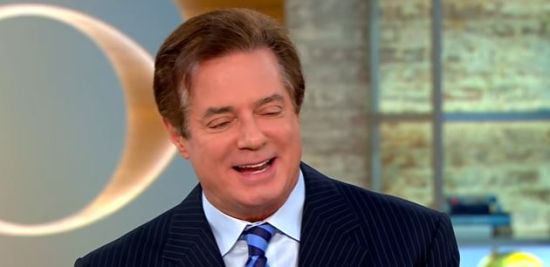 Paul Manafort was using fraudulently obtained loans and tax-cheating tricks to prop up his personal finances as he became chairman of the Trump campaign in 2016, according to a new 32-count indictment filed against him and his business partner Thursday.

The indictment ratchets up pressure on Manafort and his deputy, Rick Gates, who were already preparing for a trial in the District that could come later this year on fraud and money-laundering charges…

The new indictment offers a more detailed portrait of what prosecutors say was a multiyear scheme by Manafort and Gates to use their income from working for a Ukrainian political party to buy properties, evade taxes and support a lavish lifestyle even after their business connections in Kiev evaporated.

"Manafort and Gates generated tens of millions of dollars in income as a result of their Ukraine work. From approximately 2006 through the present, Manafort and Gates engaged in a scheme to hide income from United States authorities, while enjoying the use of the money," the indictment charges.
Mueller clearly is ratcheting up the pressure on Manafort to flip on Trump. Because of his previous work with the Ukrainian politician and overtures to the Putin team, they may be hoping that Manafort has information on possible collusion. But either way, they're gonna nail him for the tax evasion and money laundering stuff anyway. It doesn't seem like he put much effort into trying to hide it, and once those secret ledgers were found showing the millions paid to him, it became easy to track through Russian and European banks.