The comedy business, and the country, lost one of its most important voices with the death of the legendary Barry Crimmins. If you don't know who that is, it's not a surprise. AV Club has it right when it calls him one of those artists "whose influence dwarfs their popularity, who get mentioned as sort of advanced studies for their more successful acolytes."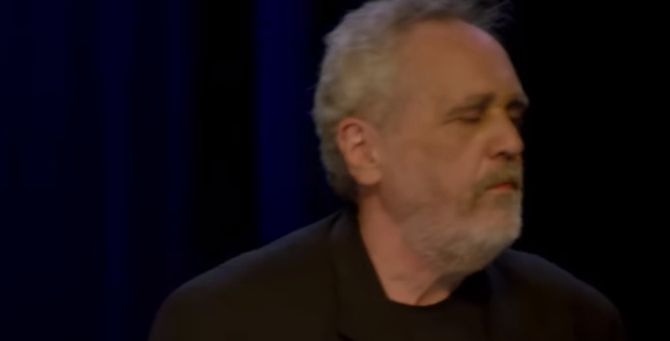 I was not one of those successful acolytes. I was a guy who did a few years as a stand up comic trying, and failing, to be like Barry. But I didn't have his talent or his dogged determination to use comedy to push for major social change. He will be more famous, it seems, for having been the driving force behind the Boston comedy scene that produced a long list of stars — Steven Wright, Bob Goldthwait, Denis Leary, Kevin Meaney, Paula Poundstone and many others. And for his activism.
Goldthwait, his best friend, directed the documentary Call Me Lucky, which is all about Barry. If you haven't seen it, find it. It's incredibly powerful. Much of it is the story of how he was the victim of terrible sexual abuse growing up and his subsequent campaign against pedophiles on the internet in the 90s, which led to AOL and other companies making major changes. And how this fueled both his comedy and his political activism.
Over the last decade or so I was fortunate enough to get to know Barry just a little bit. It began when I wrote about him on this blog and he sent me a gracious email thanking me for the kind words. I brought him on my radio show and we had an incredible conversation (I need to see if I still have the audio of it). We exchanged emails over the years now and then and when he announced that he had been diagnosed with cancer a few weeks ago, I knew that was bad news. His wife Helen was already fighting cancer and, sadly, likely won't like much longer herself (she's in stage 4 non-Hodgkins lymphoma).
I will remember him for his brilliant comedy, his relentless effort to make the world a better place and, on a personal level, as one of the most
human
of human beings. We lost a giant today; sadly, only a few us of will ever know it.
I want to share this video, what was really his introduction to the country back in the mid-80s. And there's an interesting story behind this. Crimmins had really launched the Boston comedy scene in the late 70s when he convinced the owner of a Chinese restaurant called the Ding Ho to let him host a comedy night. A few years later, Johnny Carson's producer came into town and had some auditions for the show. Everyone there expected a guy named Lenny Clark to be the first one to make it big, but it was Steven Wright who caught the producer's eye and he got on the show and destroyed the place. A few years after that, Wright repaid Crimmins by bringing him on the HBO Young Comedian's special and giving him his big TV break.