The Wall Street Journal, owned by Trump's buddy Rupert Murdoch (Michael Wolff reveals that they talk regularly in the evenings and Murdoch acts as an informal adviser), reports that Jared Kushner failed to report about a billion dollars in debt and ties to powerful investors, including the right wing's favorite boogeyman, George Soros.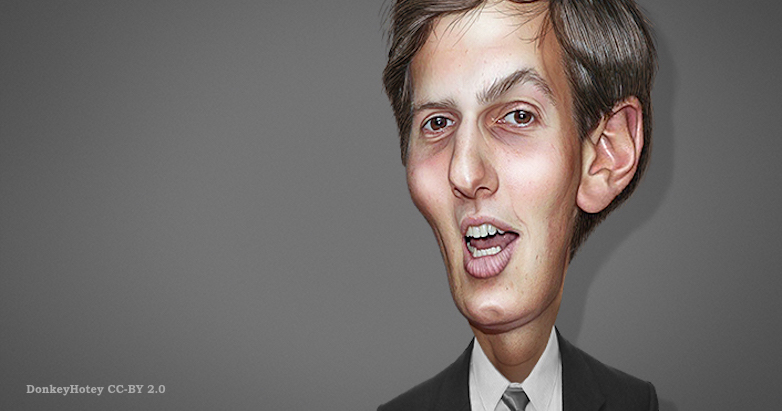 Jared Kushner didn't disclose his business ties with George Soros, Peter Thiel, and Goldman Sachs, or that he owes $1 billion in loans, The Wall Street Journal reported on Tuesday.

The top White House adviser and son-in-law of Trump failed to identify his part ownership of Cadre, a real-estate startup he founded, which links him to the Goldman Sachs Group and the mega-investors George Soros and Peter Thiel, sources told The Journal…

Kushner also failed to identify debt of more than $1 billion from 20 lenders and personal guarantees to pay more than $300 million of that, according to The Journal.

While Gorelick called revisions to the disclosure "very normal," ethics experts told The Journal that the loans and guarantees should be disclosed so officials could decide whether Kushner needs to recuse himself from issues that involve his lenders. Investment in startups like Cadre should definitely be disclosed, experts said.

"Anything that presents a potential for the conflict of interest should be disclosed so that the public and the press can monitor this," Trevor Potter, a former chairman of the Federal Election Commission, told The Journal.
Potter, incidentally, is a Republican. He was appointed to the FEC by the first President Bush and was chief counsel to the McCain presidential campaign in 2008. He then formed the Campaign Legal Center, a truly non-partisan organization that does great work on matters like this. So now we have this on top of the fact that he failed to disclose more than a hundred meetings with foreign officials, many of them Russian, and all the other things he failed to include. It appears that he filled out his original disclosure forms for both ethics officials and his bid for security clearance by just writing "Don't worry, I'm a good boy and my daddy in law loves me." And then they wonder why he can't get a security clearance.