Lori Bakker, now the wife of Christian con man Jim Bakker, is just as ridiculous as his previous wife Tammy Faye was. And she has the con artist schtick down just as well as he does — terrify their ignorant followers with tales of impending persecution and they'll open their wallets and buy your crappy survival food.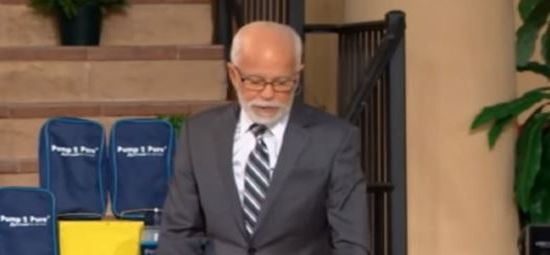 "We love our president, we love our vice president, we love our first lady, we love our second lady," she said, defending the administration after Joy Behar of "The View" mocked Vice President Pence's faith on a recent program. "They stand up unashamed of the gospel of Jesus Christ. What's scary for us? Jim has been preaching it for the last two days pretty strong; they're saying it's mental illness."

"If the world is thinking that we're all mentally ill, do you know what's going to happen next?" Bakker asked. "They are going to put us all away in mental illness centers."

"You know what they used to do with women that went through menopause back years ago?" she continued. "They put them in insane asylums because their hormonal balance was completely off. I'm not kidding, that is what they did. And I'm not kidding, that is what is going to happen to us as Christians. They are going to lock us up and throw us out if we don't stand up."
Yeah, that was back when our ideas about women came primarily out of the Bible, which considered women "unclean" during their period and for twice as long after giving birth to a girl than to a boy. But you keep on spreading that paranoia. I'm sure it keeps the money flowing in since Jim can't sell fake time shares anymore. His con is less criminal now, but it's still a con. Grifters gonna grift.