Buzzfeed reports that a California bank flagged and blocked several transactions from former Trump campaign manager Paul Manafort immediately before and after his time working on the campaign. This may have no relationship at all to Trump, but Mueller has all those details and they probably do involve the money laundering and bank fraud charges he has pressed against Manafort.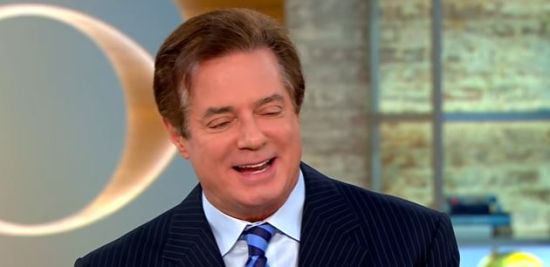 In March 2016, weeks before Paul Manafort joined the Trump campaign, a company co-owned by Manafort and his son-in-law at the time, Jeffrey Yohai, opened a bank account in conjunction with real estate development efforts the pair were undertaking in Los Angeles. Two months later, the company opened a second account at the same bank.

In mid-September, however, the bank forcibly closed the accounts due to a series of transactions the bank deemed to be suspicious, and a few days before the 2016 election filed a suspicious activity report, or SAR, with the Treasury Department's Financial Crimes Enforcement Network (FinCEN). By law, banks must file suspicious activity reports when they spot transactions that bear hallmarks of money laundering or other financial misconduct. Such reports can support investigations and intelligence gathering — but by themselves they are not evidence of a crime.

From there, things quickly went downhill.

By the end of 2016, a related company controlled by Manafort and Yohai had filed for bankruptcy, as had the companies set up to handle three of the properties involved in the pair's efforts. Jessica Manafort filed for divorce against Yohai in March 2017, which has since been finalized. By late September 2017, Yohai informed the court overseeing the bankruptcies that the ownership of new companies set up to handle the purchases of the properties while in bankruptcy was "misrepresented" to him and that Paul Manafort and others associated with those companies conspired to "mislead" the court and others involved "as to their true intentions and motivations."
Federal prosecutors were apparently already looking at indictments in this situation, even before Mueller began to focus on it. It seems very likely, given the timing, that this at least had something to do with Manafort's work in Ukraine, for which he received millions of dollars that he apparently didn't declare on his taxes and tried to hide from bank regulators by funneling it through Cyprus. This is how Mueller ratchets up the pressure on Manafort to turn on Trump.