During the campaign last year, George Papadopoulos, who had been approached by a Russian intelligence asset, proposed that the campaign hold meetings with people close to Putin. AG Jeff Sessions told Congress that he pushed back against that proposal, but Reuters reports that three others who were in that meeting told Mueller that he did not do so.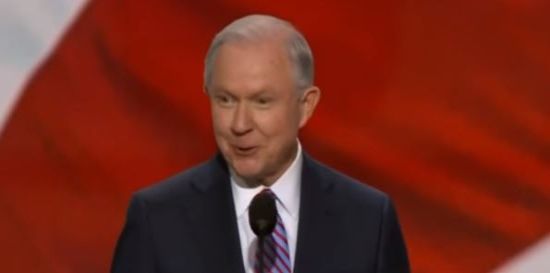 "Yes, I pushed back," Sessions told the House Judiciary Committee on Nov. 14, when asked whether he shut down Papadopoulos' proposed outreach to Russia.

Sessions has since also been interviewed by Mueller.

Three people who attended the March campaign meeting told Reuters they gave their version of events to FBI agents or congressional investigators probing Russian interference in the 2016 election. Although the accounts they provided to Reuters differed in certain respects, all three, who declined to be identified, said Sessions had expressed no objections to Papadopoulos' idea…

The three accounts, which have not been reported, raise new questions about Sessions' testimony regarding contacts with Russia during the campaign.

Sessions previously failed to disclose to Congress meetings he had with former Russian Ambassador Sergey Kislyak, and testified in October that he was not aware of any campaign representatives communicating with Russians.
Assuming that Sessions told Mueller the same thing he told the House Judiciary Committee, this is exactly the kind of evidence that Mueller could use to file perjury and obstruction of justice charges with, which would put enormous pressure on Sessions to come clean and turn on Trump. I don't know if there was any actual collusion — that is, a quid pro quo that if Putin helped Trump win by releasing the hacked emails through WikiLeaks and by planting fake stories on social media that hurt Clinton — but it's hard to believe that it's purely coincidental that every single person close to Trump who held meetings with Russian officials conveniently "forgot" to report them on their mandatory disclosure forms and/or lied about them. And that's true of, at the very least, Michael Flynn, Sessions, Jared Kushner, and Donald Trump, Jr. (who didn't have to file any disclosure forms but lied to the press and the public).