The United States has always treated Saudi Arabia with kid gloves because, even though we only get about 11% of our imported oil from that country, they largely control OPEC and can seriously disrupt oil prices around the world, which can have a huge negative effect on the economy. But under Trump, that relationship has become downright incestuous. Here's why he's done that.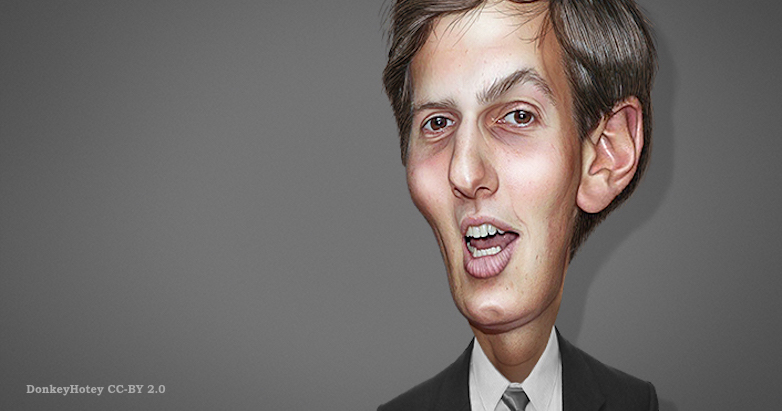 Much of this can be attributed to Jared Kushner, who has become close with the Saudi Crown Prince Mohammed bin Salman (referred to often as simply MBS), who has been eliminating rivals to his power in that country with a range of authoritarian actions over the last few months. It was Kushner who talked Trump into making Saudi Arabia his first visit to another country after taking office, and the Saudis knew exactly how to court Trump and his fragile ego: With massive praise. They put up billboards everywhere he went honoring his victory in the election and singing his praises. That's all it takes to get Trump on your side.
The Intercept reports that MBS told his counterpart in the United Arab Emirates, who has also been getting favorable treatment from the White House, that he has Kushner "in his pocket."
One of the people MBS told about the discussion with Kushner was UAE Crown Prince Mohammed bin Zayed, according to a source who talks frequently to confidants of the Saudi and Emirati rulers. MBS bragged to the Emirati crown prince and others that Kushner was "in his pocket," the source told The Intercept.
That report also says that Kushner may have provided MBS with names from our intelligence agencies of members of the Saudi royal family who may be a threat to his power. Several of the names that appeared in the Presidential Daily Briefing were ultimately arrested by MBS, and one of them was reportedly tortured. But there's another avenue of influence here too and that's George Nader, who is now cooperating with the Mueller investigation. The New York Times reports that Nader worked hard to influence a prominent Republican fundraiser to gain favor with the White House on behalf of both Saudi Arabia and the UAE.
Hundreds of pages of correspondence between the two men reveal an active effort to cultivate President Trump on behalf of the two oil-rich Arab monarchies, both close American allies.

High on the agenda of the two men — George Nader, a political adviser to the de facto ruler of the U.A.E.; and Elliott Broidy, the deputy finance chairman of the Republican National Committee — was pushing the White House to remove Secretary of State Rex W. Tillerson, backing confrontational approaches to Iran and Qatar and repeatedly pressing the president to meet privately outside the White House with the leader of U.A.E…

Mr. Nader's cultivation of Mr. Broidy, laid out in documents provided to The New York Times, provides a case study in the way two Persian Gulf monarchies have sought to gain influence inside the Trump White House. Mr. Nader has been granted immunity in a deal for his cooperation with the special counsel, Robert S. Mueller III, according to people familiar with the matter, and his relationship with Mr. Broidy may also offer clues to the direction of that inquiry.

Mr. Nader has now been called back from abroad to provide additional testimony, one person familiar with the matter said this week. Mr. Mueller's investigators have already asked witnesses about Mr. Nader's contacts with top Trump administration officials and about his possible role in funneling Emirati money to Mr. Trump's political efforts, a sign that the investigation has broadened to examine the role of foreign money in the Trump administration.
There are really three major geostrategic players in the Middle East: Israel, Saudi Arabia and Iran. The U.S. is never going to stop supporting Israel, so that's a given. It's the balance of power between Saudi Arabia and Iran that is the pivotal factor in keeping the region stable. Trump's flirtation with canceling the Iran nuclear deal, which is likely to finally happen in May when the next certification of compliance from the White House is due, is a massive threat to regional stability. This strong tilt toward Saudi Arabia can only exacerbate the situation. With the wars in Syria and Yemen already in full swing, the odds of a region-wide war are much higher with Trump's change in stance than they were before.
And it goes beyond the Middle East as well. If Trump cancels the Iran agreement, why would North Korea even consider a negotiated solution to their nuclear program? If the U.S. refuses to keep up its end of the bargain even while our own intelligence services say that Iran is in full compliance with the agreement, there is no reason to believe that any agreement would be worth the paper it's printed on. I wouldn't bother negotiating with us either under those circumstances.
Trump is the worst possible kind of person to have this kind of power — totally uneducated on nearly every issue, so arrogant that he thinks he can't possibly learn anything from the professionals at the State Department or the CIA who have worked on Middle East policy for decades, impulsive and easily manipulated. It's a recipe for disaster and that may be exactly what we're headed for.