Yesterday was the March for Our Lives, a nationwide day of protests for stronger gun control policies, with the big march in Washington, DC and others all around the country. To call it powerful would be an understatement. Some images and video from those protests, beginning with this newspaper cartoon turned into a poster: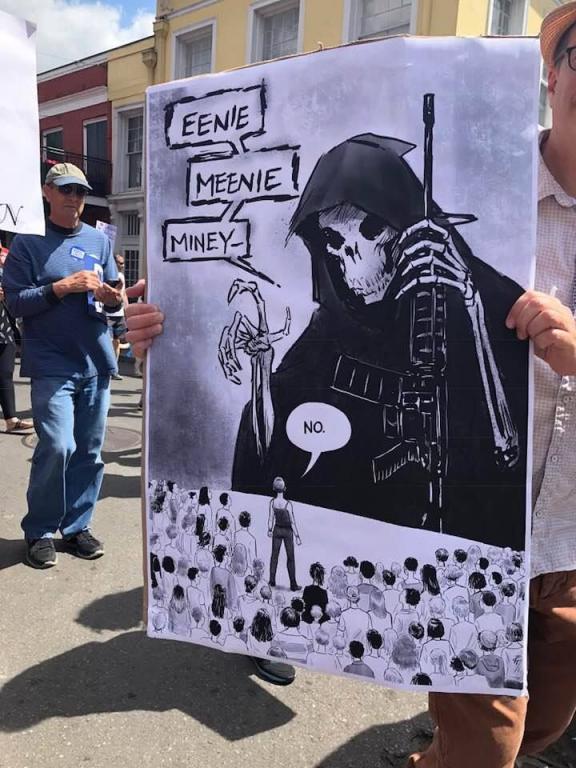 And this one, a picture taken by my friend Jess' mother, I assume from the march in her hometown of Chicago: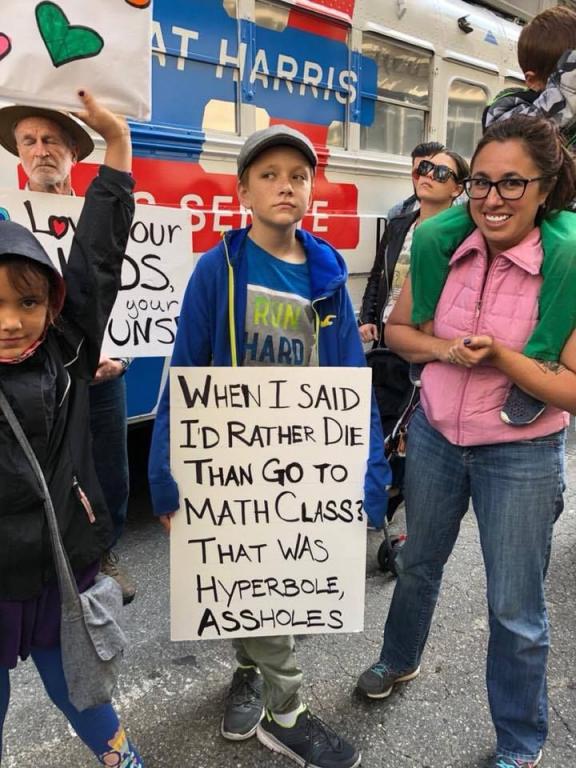 This video, from one of the students at Marjorie Stoneman Douglass, Delaney Tarr, is powerful:
But these last two…if you can watch them without crying, there has to be something wrong with you. The first is an 11 year old girl named Naomi Wadler. Standing in front of a million people — literally — she spoke with poise and eloquence about how African-Americans who are killed are so often not even mentioned on the front page.
But this one is the most powerful moment of all. 6 minutes and 20 seconds. That's how long it took the shooter in Florida to kill 17 students and wound 15 others. Emma Gonzalez stands there for almost the entire length of that time in silence after recounting all of the names of those killed and pointing out all of the things they can no longer do. I don't have any children, but I think of my nieces and nephews, grand-nieces and nephews, and children of friends whose lives could be snuffed out just as easily. This had me bawling. A moment in the history of protests that will rival MLK's I Have a Dream speech, from a 17 year old girl still grieving the death of her friends. Watch this. Have tissues ready.
Look, I don't like protests. I participate in them, but they generally annoy me. I hate chanting. I hate hearing the same old platitudes. But this one was different. I can only hope that we are at a major turning point in this country. I'm not confident that we are, but I am optimistic. I am hopeful. I am inspired. These young people are our future leaders and I can't feel anything but good about that prospect. I, for one, gleefully welcome our new teenage overlords.