Rick Santorum has never been confused for a Rhodes Scholar. He's always been a frothy mix of ignorance and stupidity. But the statement he made on CNN's Sunday morning show about how to deal with school shooting was a particular brand of idiocy that only a Christian righter could utter it out loud.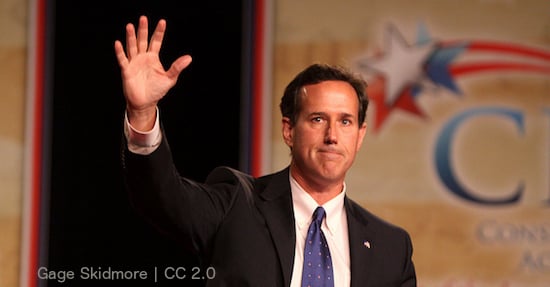 CNN commentator and former Pennsylvania GOP Sen. Rick Santorum on Sunday suggested students protesting for gun control legislation would be better served by taking CPR classes and preparing for active shooter scenarios.

"How about kids instead of looking to someone else to solve their problem, do something about maybe taking CPR classes or trying to deal with situations that when there is a violent shooter that you can actually respond to that," Santorum said on CNN's "State of the Union."
That last clause is just gibberish; the one before it is appalling and inane. Really, Rick? CPR? That is rarely going to do any good for someone who's been shot, and it certainly doesn't help those who have already been killed. But even if it did, it doesn't do anything to prevent the shooting from happening. At very, very best, it might help a small number of victims live instead of dying, at least immediately. That's your solution? This is the kind of argument you're reduced to when you have nothing better to say, when you're trying to come up with something, anything, to justify a horribly wrong position.