Longtime investigative journalist Ronald Kessler has a new book out about the Trump White House, and in an interview with Jake Tapper to promote the book he identified Kellyanne Conway as the "#1 leaker" in the White House, continually leaking dirt on her rivals for Trump's attention.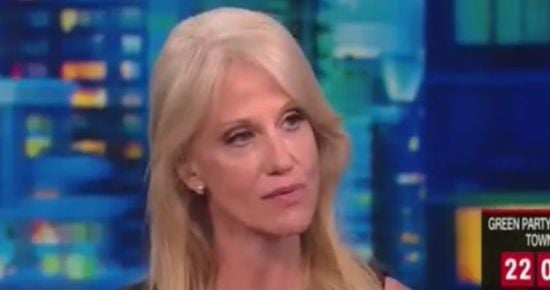 "While I was interviewing Kellyanne at the White House, she forgot that she was on the record," Kessler explained to the CNN host. "She started lashing into Reince Priebus. She said the most mean, cutting and obviously untrue things about Reince, and I didn't include them in the book because they were so unfair."

"She also lit into Jared and Ivanka, saying that they leak against Steve Bannon," he continued. "I know White House aides who have seen texts she has sent to other journalists, dissing her colleagues, leaking material."

"So if you wonder why there are so many leaks out of the White House, one reason is, Kellyanne is the number one leaker," he concluded.
Michael Wolff says much the same thing about both Jarvanka (Jared and Ivanka) and Steve Bannon, all of whom were constantly leaking things to the media that they thought would discredit the other potential Trump influencers. When Wolff's book came out, Bannon ended up being fired. Will the same now happen to Conway? Trump has raged against the leaks, but has never done anything to Conway about them. She's now reportedly trying to get the position of White House Communications Director, but I suspect Laura Ingraham may soon be competing with her for that job as well.