Jeff Sessions, long one of the most unprincipled little weasels in all of Washington, DC, appears to have discovered that he's a vertebrate, telling the White House that if Trump fires Assistant Attorney General Rod Rosenstein, he will resign his position as Attorney General as well. I'm not sure whether that makes it more or less likely that Trump will fire Rosenstein.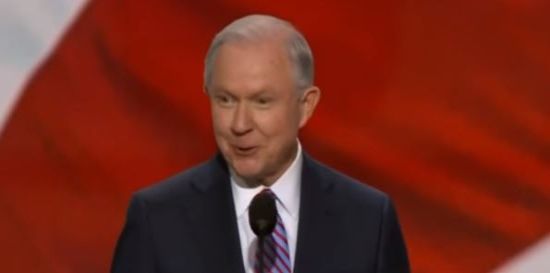 Attorney General Jeff Sessions recently told the White House he might have to leave his job if President Trump fired his deputy, Rod J. Rosenstein, who oversees the investigation into Russian interference in the 2016 election, according to people familiar with the exchange.

Sessions made his position known in a phone call to White House counsel Donald McGahn last weekend, as Trump's fury at Rosenstein peaked after the deputy attorney general approved the FBI's raid April 9 on the president's personal attorney Michael Cohen.

Sessions's message to the White House, which has not previously been reported, underscores the political firestorm that Trump would invite should he attempt to remove the deputy attorney general. While Trump also has railed against Sessions at times, the protest resignation of an attorney general — which would be likely to incite other departures within the administration — would create a moment of profound crisis for the White House.
It would be the Saturday Night Massacre all over again, when Nixon fired the AG for refusing to fire the special prosecutor investigating Watergate, Archibald Cox, then fired the Assistant AG for refusing the same thing, before finally finding Robert Bork, the #3 man at the DOJ as Solicitor General, who was willing to do his dirty work. Given Trump's very public anger with Sessions for recusing himself in the first place, this might well make Trump more likely to fire Rosenstein, not less. That would kill two birds with one stone and allow him to move the more pliant Scott Pruitt over from the EPA to head the DOJ.
No matter how it goes down, however, it's going to cause a huge problem for Trump. His base, which is maybe 30% of the country, will stick with him (hell, he could rape a 5 year old on national television while wearing an "I love Satan" t-shirt and they would rationalize it away), but no one else would. If it happens before November, it makes a Democratic sweep more likely, and if it happens after November, when Democrats are likely to be in charge of both houses of Congress, the impeachment proceedings would be immediate.