With so many for-profit universities being seriously scammy, the Education Department has had multiple investigations going into corrupt practices at those institutions. Education Secretary Betsy DeVos, and Trump, are closing down those investigations — some of which involved universities that high-ranked department officials came from.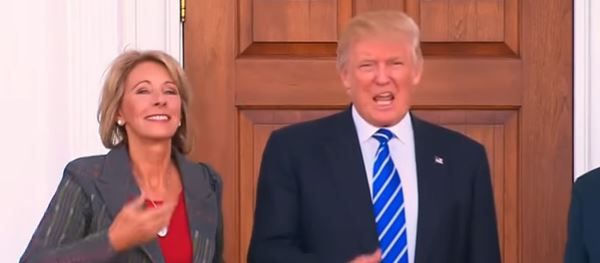 Members of a special team at the Education Department that had been investigating widespread abuses by for-profit colleges have been marginalized, reassigned or instructed to focus on other matters, according to current and former employees.

The unwinding of the team has effectively killed investigations into possibly fraudulent activities at several large for-profit colleges where top hires of Betsy DeVos, the education secretary, had previously worked.

During the final months of the Obama administration, the team had expanded to include a dozen or so lawyers and investigators who were looking into advertising, recruitment practices and job placement claims at several institutions, including DeVry Education Group.

The investigation into DeVry ground to a halt early last year. Later, in the summer, Ms. DeVos named Julian Schmoke, a former dean at DeVry, as the team's new supervisor…

In addition to DeVry, now known as Adtalem Global Education, investigations into Bridgepoint Education and Career Education Corporation, which also operate large for-profit colleges, went dark.

Former employees of those institutions now work for Ms. DeVos as well, including Robert S. Eitel, her senior counselor, and Diane Auer Jones, a senior adviser on postsecondary education. Last month, Congress confirmed the appointment of a lawyer who provided consulting services to Career Education, Carlos G. Muñiz, as the department's general counsel.
So much for draining the swamp. We'll just put the people who were under investigation in charge of the investigations, just like Trump wants to have the say over the Mueller probe. None of this should be the least bit surprising. After all, Trump just had to pay out $25 million to settle suits over his utterly fraudulent Trump "University." He made huge amounts of money on that scam and he wants to protect others from the same fate. Because why would we want to prevent rich people from committing fraud on non-rich people? Who do we think own this country, anyway?
And DeVos is an avowed enemy of public education in general. I'm surprised Amway hasn't built their own "university," where the students sell other students education packages. Multilevel Marketing U. Their mascot would be the Fighting Con Artist.