The New York Times dropped a bombshell story on Sunday that says Donald Trump, Jr. didn't just meet with Russians offering help to get his father elected, he also held a meeting with officials from Saudi Arabia and the United Arab Emirates offering similar help.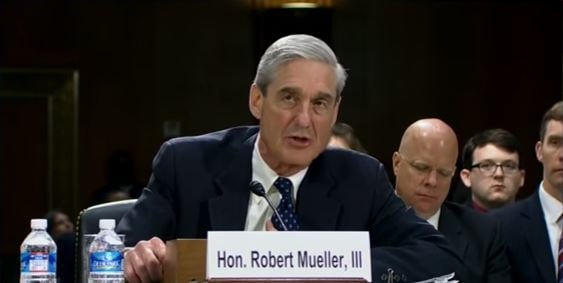 Three months before the 2016 election, a small group gathered at Trump Tower to meet with Donald Trump Jr., the president's eldest son. One was an Israeli specialist in social media manipulation. Another was an emissary for two wealthy Arab princes. The third was a Republican donor with a controversial past in the Middle East as a private security contractor.

The meeting was convened primarily to offer help to the Trump team, and it forged relationships between the men and Trump insiders that would develop over the coming months — past the election and well into President Trump's first year in office, according to several people with knowledge of their encounters.

Erik Prince, the private security contractor and the former head of Blackwater, arranged the meeting, which took place on Aug. 3, 2016. The emissary, George Nader, told Donald Trump Jr. that the princes who led Saudi Arabia and the United Arab Emirates were eager to help his father win election as president. The social media specialist, Joel Zamel, extolled his company's ability to give an edge to a political campaign; by that time, the firm had already drawn up a multimillion-dollar proposal for a social media manipulation effort to help elect Mr. Trump…

It is unclear whether such a proposal was executed, and the details of who commissioned it remain in dispute. But Donald Trump Jr. responded approvingly, according to a person with knowledge of the meeting, and after those initial offers of help, Mr. Nader was quickly embraced as a close ally by Trump campaign advisers — meeting frequently with Jared Kushner, Mr. Trump's son-in-law, and Michael T. Flynn, who became the president's first national security adviser. At the time, Mr. Nader was also promoting a secret plan to use private contractors to destabilize Iran, the regional nemesis of Saudi Arabia and the Emirates.
This is a
huge
story, especially in light of what has happened since Trump took office. He has tilted our policies in the Middle East strongly toward Saudi Arabia and the UAE and against Iran and Qatar (which rejected a proposal from Jared Kushner to invest in his troubled 666 property in Manhattan, remember). We have Kushner buddying up with the Saudi Crown Prince Mohammed bin Salman, who has been executing a brutal campaign to take out any rivals to his power to succeed his father as the king of that country. And we have Saudi Arabia and Israel suddenly cooperating on all of this.
The Times also reports that after the election, Nader paid Zamel's company, which specializes in manipulating public opinion through social media — exactly what the Russian government did in 2016 — $2 million, and that Zamel subsequently "provided Mr. Nader with an elaborate presentation about the significance of social media campaigning to Mr. Trump's victory." That payment from Nader is important because he is now a cooperating witness in the investigation and a Bloomberg reporter said that he spoke with someone close to Trump, Jr. who said that they aren't worried about it because unless they can show a contract, they can't prove it. But if Nader tells them and provides evidence that he was the go-between that funneled $2 million to the Israeli company, they're screwed.
All of this is now under investigation by Mueller's team, which should terrify Trump, and it clearly does. He unleashed a series of angry tweets about the investigation. But it also shows that the Republican talking about how Mueller hasn't found any evidence of collusion yet is just wrong. We have no idea what Mueller has on Trump and his associates. The report says that Mueller has known about this meeting for months and has been investigating it. The leaks that have come out are a few months behind what Mueller's team is actually doing. Imagine what we may find out a month from now, or two months.
This investigation is far from over and if we're going to use the old "where there's smoke, there's fire" analogy, there's more smoke here than in Snoop Dogg's limousine.